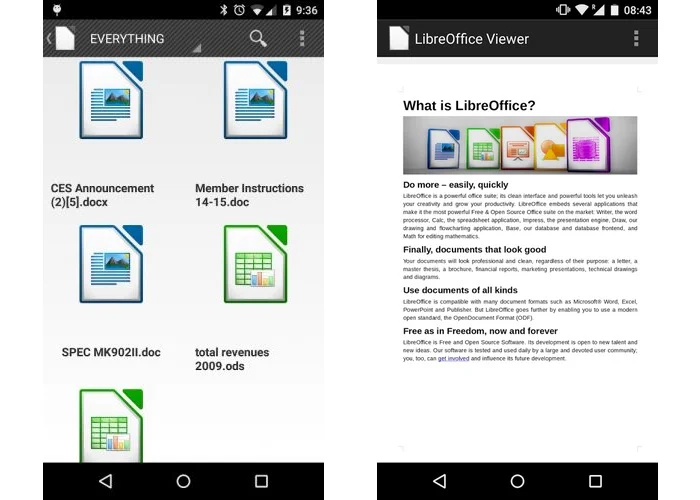 LibreOffice Viewer is a free office suite, running smoothly on Android 4.0 and more devices. It also has many same powerful features as the Desktop version.
LibreOffice – the best free office software suite on the computer, is now available on the Android platform. This software is supported by a dynamic development community, modernized by The Document Foundation – a non-profit organization based in Germany.
Basically, LibreOffice Viewer for Android also owns many functions quite similar to the version for Windows, OS X, and Linux. It means this office suite on the phone also supports most of the popular text formats, including Open Document Format (odt, ods, and odp), Microsoft Office 2007/2010/2013 (docx, xlsx and pptx) and Microsoft Office 97/2000 / XP / 2003 (doc, xls, and ppt).
In addition, with LibreOffice Viewer, users can easily view, edit, mark, edit Writer text (equivalent to Word), Calc (equivalent to Excel), Draw (equivalent to design, draw), and Impress (equivalent to Powerpoint).
The application provides basic editing features such as modifying words in paragraphs, changing bold and italic font styles, etc. The corrections will be further enhanced in the future, with the help of the Developer community.
Besides, LibreOffice is using the same tool as LibreOffice for Windows, OS X, and Linux. This allows a new UI based on Firefox for Android to combine with reading similar documents as if you are using LibreOffice on a computer.
Features of LibreOffice Viewer for Android
• Edit text with the virtual keyboard (on-screen keyboard).
• Simple text format with bold, italic, underline, and highlight.
• Tap and hold on the desired content area to select it.
• Touch the corners to resize the shape or picture.
• Support many popular text formats, including Open Document Format, OOXML, and MS Office.
• Quick switch between viewing and editing.
• Smooth scrolling between pages.
• Support to save documents, update default source files, allow adding photos, drawings, pictures, and shapes to documents (Writer).
LibreOffice Viewer also comes with a first preview of the editing function. This is considered an experimental feature on the application, so it is currently unstable. If users encounter any problems when using, please send feedback to the manufacturer at https://bugs.documentdirectory.org to fix and improve the quality, helping the manufacturers create the complete editor.
Important note: LibreOffice Viewer is currently running an experiment, so there will be specific errors during use.
New features
For versions 8 and 9
• Fix errors.
• Change some minor designs.
• Known error: open the file after the spreadsheet shows problems. Restart the application to fix it.
For versions 6, 7
• Fix opening attachments when the application is not running.
• New user interface changes (toolbar, enabling font conversion).
• Other bug fixes.
For versions 4, 5
• Fix screen rotation error in the document browser.
• Support SVG.
>>The Best Free Online Game And Application