Download Amity Park APK and play as the superhero, then date cute girls of the city after you save them from the ghosts!
About Amity Park
Amity Park APK is a Dating Sim/Visual Novel game based on the notable Nickelodeon TV show – Danny Phantom. As fans of the show will recall, Danny Phantom was a beloved animated series that seamlessly combined supernatural elements, humor, and heartfelt moments. Now, with Amity Park APK, players can dive into a world where they can forge their own supernatural romance and experience the thrills and challenges of life in the ghostly town of Amity Park.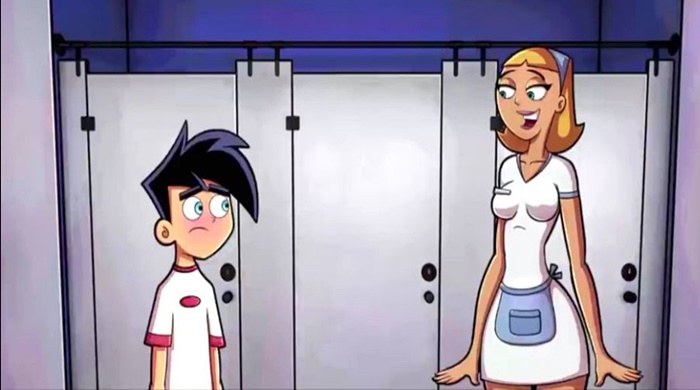 The gameplay
Amity Park APK offers players a unique gameplay experience by blending the dating sim and visual novel genres. Players assume the role of the show's protagonist, Danny Fenton, and navigate his life as both a high school student and a spectral superhero.
The gameplay revolves around making choices that influence the course of the story, including interactions with other characters, solving mysteries, and managing relationships.
Notable features
Character Interactions: The heart of Amity Park APKlies in the interactions with a diverse cast of characters from the Danny Phantom universe. Each choice made affects the characters' opinions of Danny, leading to various branching storylines and multiple endings.
Supernatural Exploration: True to the show's essence, the game features exploration of the paranormal. Players can alternate between Danny's human and ghostly forms to interact with the living world and the spectral realm. This aspect adds depth to the gameplay, enabling players to solve mysteries, uncover secrets, and employ ghostly powers to advance in the story.
Choices and Consequences: Amity Park APK thrives on the butterfly effect of choices. Decisions made by players have far-reaching consequences, influencing relationships, character dynamics, and the overall storyline. This feature fosters replayability, encouraging players to explore different paths and outcomes.
How to download Amity Park APK on mobile
Before downloading any APK file, ensure that your device is set to allow installations from unknown sources. This setting can be found in your device's security settings.
Visit here to download the latest Amity Park APK file.
Once the download is complete, open the APK file. Follow the on-screen prompts to install the game on your device.
Launch the game and enter a world of strategic conquest and enchanting narratives right from your mobile device.
Conclusion
Amity Park APK masterfully melds the essence of the beloved Danny Phantom TV show with the interactive elements of dating sims and visual novels. By enabling players to immerse themselves in the ghostly world of Amity Park, the game taps into nostalgia while delivering fresh and engaging gameplay.