Product Description
In recent years, Snapchat social network has emerged rapidly with the number of user has increased unprecedented fast. In just two years of its establishment and development, Snapchat application has become popular and has an amazing number of users. It is developed on iOS and android operating systems. Users can send messages, photos, videos, animation, and audio, etc. for their friends on the list.
Interestingly, the messages you send will no longer exist after 10 seconds from the time that recipient had read the message. More specifically, within 24 hours, all previous information will disappear on the wall of the users of the application. In addition, it also allows you to draw or add some images to your message.
The formation of the application
Snapchat was born in September 2011 by a group of American students. By 2014, more than 700 million messages were sent from the app. This is a surprising number. Unexpectedly, from the beginning, people had predicted that an application did not save the sender's message could have no meaning. But the creator explained "It carries a personal message, enabling people to comfortably chat with each other for entertainment, without regard to what they have said."
Information security issue is also very simple. Because the messages and data only exist for 24 hours, the users that are using Snapchat will not have to worry about their account being hacked or lose the personal data. The self-destruct feature seems to be meaningless but it is a very new thing that attracts the young people. The reason is that they can send the sensitive messages or images that they don't want anyone to see, and only a moment later, it will immediately disappear.
The reason that many people are using Snapchat APK
– It has absolutely no ads.
– The messages and data will self-destruct so the information security is very high.
– Easy to customize the picture message format.
– It has high-speed access because it does not save data like Facebook Messenger, Zalo, etc.
– There is a large user community.
– Can send messages without the limitation of the number of recipients.
Disadvantages
– Image filter is relatively poor, so the quality of the picture is not as sharp and beautiful as other applications.
– Unable to control the screenshot (so that the recipients can share their screenshot).
– Although the messages or data are self-destruct, Snapchat is not sure that they are still stored on the host computer.
How to download the latest Snapchat APK
The Snapchat download link is above this article. Please select the android or iOS operating system that you are using to download. Then install and use it as the usual.
Tips for using
1. How do you delete messages on Snapchat?
Step 1. Open the app on your device.
Step 2. Touch the Snapchat icon in the upper left corner of the screen.
Step 3. Click the Settings button in the top right corner of the screen.
Step 4. Scroll down the screen and select Clear Conversations.
Step 5. Touch the "X" button next to each conversation to delete it → Choose Clear in the window that appears to confirm. If you want to delete all, just select Clear All.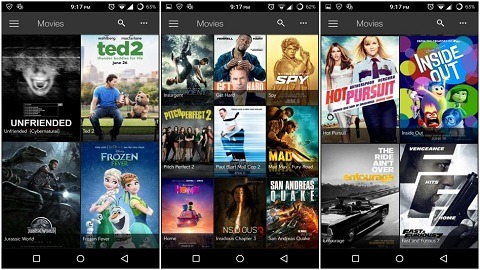 2. How do you delete messages on the Snapchat
Quite simply, you just need to press and hold the message that you just have sent, a menu will appear, and then select Delete.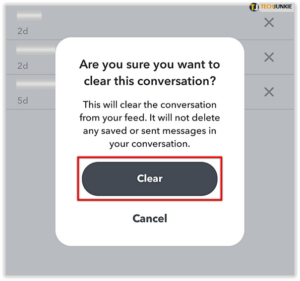 3. How to stay online safely with the Snapchat
Most unsafe issues come from strangers or unsafe links sent by strangers/your friends. Therefore, you should note the following:
– Do not add stranger to your friend list.
– Block the stranger that is trying to contact with you.
– Always switch your location mode to Private.
– Don't give your personal/confidential information via Snapchat.
– You can block stranger from connecting to you in the Setting section.
4. How to delete a Snapchat account
Step 1. Access from your device https://support.snapchat.com/delete-account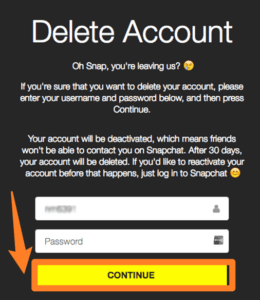 Step 2. After that, you need to log in User ID and password to delete your account.
Step 3. On the next window, you will be asked to confirm whether you want to delete your Snapchat account. You just need to enter the password again, and then select Continue.
Step 4. Finally, on your device screen, there will be a message announcing that your account has been disabled.
5. Can Snapchat messages be recovered?
I will show you how to recover the Snapchat messages in another article on Apkafe.com's blog.
We hope you will have interesting and comfortable moments with Snapchat application.
Read More
> HOW TO SCREENSHOT SNAPCHAT WITHOUT THEM KNOWING

> DELETE YOUR SNAPCHAT ACCOUNT IN A FEW EASY STEPS