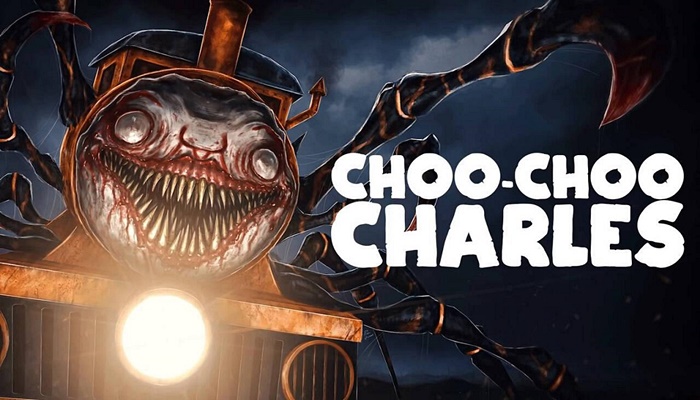 Released by Two Start Game on December 9 on Steam, Choo-Choo Charles is an open-world, survival-horror, single-player game. In the game your goal is to survive and defeat the monster Charles, thereby uncovering the secret hidden on the fictional island of Aranearum.
About Choo-Choo Charles
Choo-Choo Charles is a single-player first-person horror game, inspired by the novels of Stephen King, in which a train-body spider-headed monster chases you. Using a locomotive, the player can explore their surroundings while repelling attacks from monsters with a rotating submachine gun.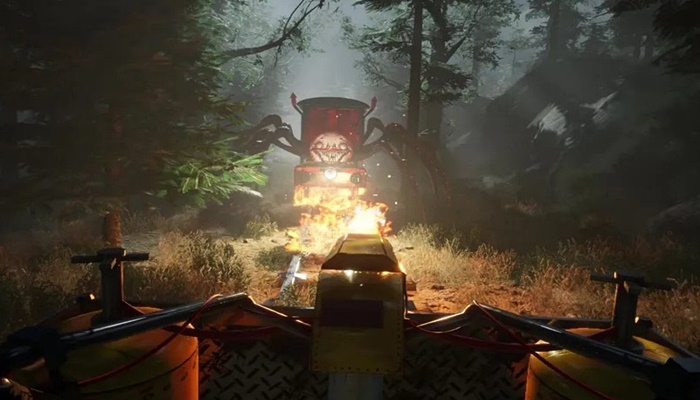 The game's graphics have a dark and gloomy color typical of horror games. The most special thing to mention is the shape of the monster Charlies with the head of a train and half of a spider's legs, with a bloody face and haunting sharp fangs. In terms of sound, there will be a ghostly timbre when the player is looking around, or a dramatic sound when being chased by Charlies. Everything is quite perfect, creating a feeling of always being watched scary.
The gameplay
You are tasked with slaying a monster known to the locals as "Charles". It is a giant monster hybrid between a spider and a train. No one knew where it came from, but they knew it came to eat little people.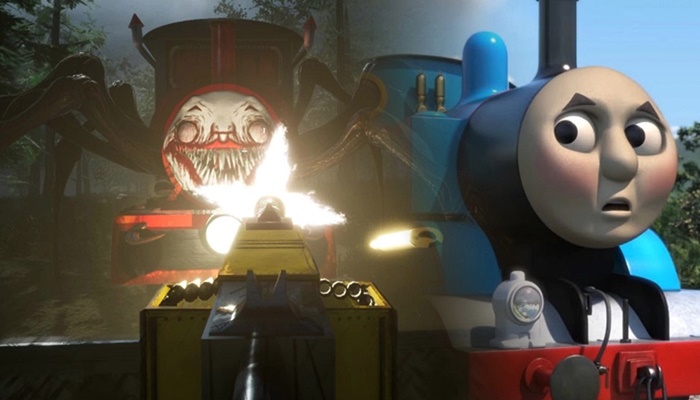 You have your own armored train, which allows you to travel around the small island on a series of interconnected tracks. You will use this train to get from place to place while completing quests for townspeople, or loot items from all over the island. Over time, you'll use the items you collect to upgrading your ship's speed, armor, and damage, growing your arsenal, and becoming an unstoppable force ready to take on the world.
The characters
Eugene: Eugene is a former supervisor of the mining team, one of the first to discover Charles. This is the character responsible for taking the player to the haunted island to defeat Charles.
Charles: Charles is the evil, demonic spider-hybrid train that serves as the main antagonist of the game.
Tony Tiddle: Tony Tiddle is a kind NPC that can be met fairly soon, after Eugene's death. He gives thanks and gives the player more information about Charles and Warren, and provides resources (scrap metal from his warehouse) to upgrade his train.
Theodore: Theodore is a suspicious NPC operating in Aranearum. He will give the player an optional side quest, which requires retrieving one of his special blue boxes from the bottom of the canyon. If completed, Theodore will reward the player with crumbs for upgrading the train.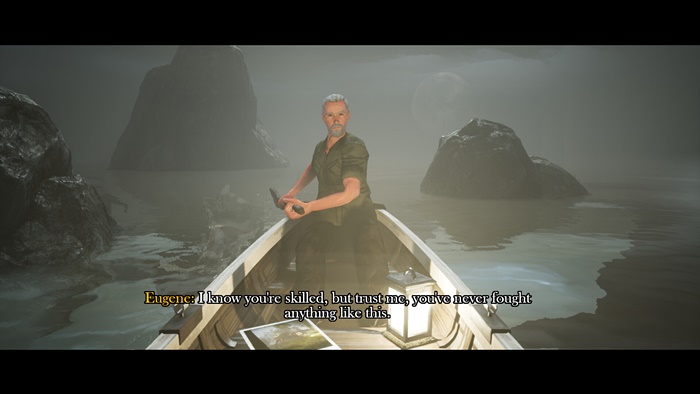 This Pickle Lady: This NPC is a crazed woman who especially loves pickles. If the secret jar of pickles can be found and brought back to her, The Pickle Lady will reward the player with a piece of scrap metal, which is used to upgrade the ship.
Candice: Candice is a kind NPC that will provide scrap metal for free without requiring side quests. She will also warn players against socializing with anyone wearing a mask.
Daryl: Daryl is a tough and outspoken NPC that offers the optional side quest of opening a locked chest, which has been dumped on his fortune. He will give a lot of keys to open it (can be used later in the game). If he can open it and bring him what's inside (a strange painting), Daryl will pay off with some scraps.
Helen: Helen is a helpful NPC that will provide more information about Charles and how to defeat him. She will give you the key to the mine containing an egg and the location of the three eggs that you need to get to kill Charles once and for all.
Sgt. Flint: Sgt. Flint is a tough and somewhat careless NPC who will offer a free flamethrower if he can find a way to put out the flames that have engulfed his warehouse.
Lizbeth Murkwater: Lizbeth Murkwater is a ghostly old lady living in the swamp who will reward train souvenirs if she brings back this NPC a mysterious corpse from the island in the middle of the swamp (beware of swamp monsters. Barry).
Paul: Paul, son of Eugene, is an NPC that can be found in the Aranearum Municipal Building. He will thank the player for the help and help devise an ingenious plan to kill Charles. He will also give gamers the key to the temple, which will need to bring all 3 eggs to participate in the final battle with Charles.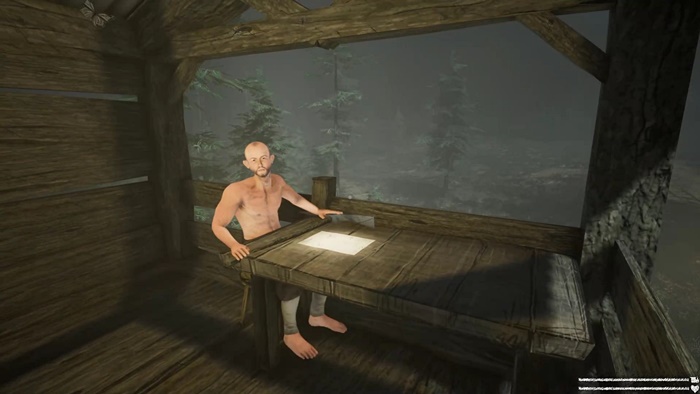 Gertrude: Gertrude is an NPC that will help get the OP gun to fight Charles. She will give a part of a special gun her husband has built, then will direct the player to the location of the other parts of the gun. Once all the parts are in place, gamers will be able to craft a powerful weapon to destroy Charles.
Gale: Gale is a clever NPC that will give the key to one of the egg places. He will also warn the player about the ancient temple on the island that is said to be strong enough to destroy all monster eggs.
Santiago: Santiago is an NPC who wants to leave the island as soon as possible. He will provide an optional side quest to retrieve the personal diary he left at home. If returning the diary to him, Santiago will reward gamers with scrap metal to upgrade his train.
John Smith: John Smith is a demolition expert that will help players design a powerful weapon to defeat Charles. John will give a free rocket launcher if bring him a rocket cartridge.
Greg: Greg is a high-level NPC that will provide a lot of information related to Charles and the 3 eggs that gamers need to collect to defeat the train monster hybrid spider. He will also give the player the key needed to get into one of the monster eggs.
Claire: Claire is a seriously injured NPC who will need help repairing the breaker by the lighthouse. If you help her repair the lighthouse, Claire will not only give the player shards of metal as a reward, but she can also signal other ships to pass by to help evacuate the rest of the island.
Sasha: Sasha is a superstitious NPC who will express concern about the ghostly entity that is said to have haunted her rock field. This character will ask the player to collect 8 mysterious drawings in the field and bring them back (if you've ever played Slenderman: The Eight Pages, everyone will find this side quest very familiar). If completed, gamers will receive a reward of metal debris to upgrade the train.
Warren Charles III: Warren Charles III is a mysterious mining company owner who is said to have gone mad and started worshiping Charles.
Hell Charles: Hell Charles is a terrifying demonic form that Charles, appears after all 3 eggs are placed in the shrine. Hell Charles is the final boss in Choo-Choo Charles.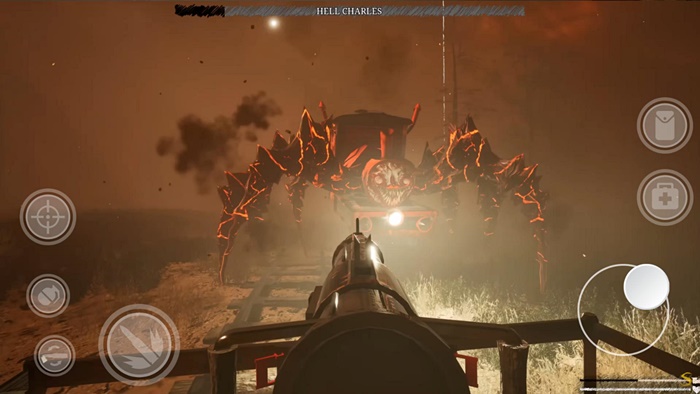 How to download Choo Choo Charles full game
Currently, Choo-Choo Charles is only available to stream online on Steam, not available for iOS and Android platforms, so players need to access the Steam website to experience the game!