Product Description
Discord is currently a very hot application for PC gamers. It allows players to freely chat with friends in writing or voice regardless of what game they are playing. It can be used on the PC, the web, and the smartphone. The most important thing is that it's completely free. 
In the future, the app will expand online stores to sell themes, sticker packs, sound packs, etc. But the core features are always free and stable.
Why Discord APK?
Support for comfortable online gameplay
Discord uses an encryption server for player communications, helping to secure your IP address.
Always stay connected with friends
Install Discord for free on your device and login it on the web or mobile device to chat anywhere, anytime.
Young and modern chat service
Easily share photos, videos, and links from your computer. GIF images are only played when you move the mouse over them, which will help reduce the CPU load. 
Voice chat does not slow down the game speed
Because Discord is used during the game play, it has little impact on CPU and computer speed in general. Your gaming experience will not be affected. 
Easy installation
You only need 10 seconds to install Discord on your computer and on other smartphone devices. 
Easy and powerful server management
Upgrade access permissions and multi-channel support. All are on a simple interface. It is suitable for both large and small groups. 
Sound quality is good and clear
Discord uses new technology to eliminate noise and reverberation, automatically adjust sound quality to the best. 
Make friends and send messages safely
You can add friends to the list and send private messages to each person. Block feature allows you to hinder unwanted messages. 
How to download, install and use the Discord app
Download it immediately with the links at the top of this article. It ensures safety for smartphones and operating system generations. Easy and fast installation. 
User manual
How to add friends on the Discord
Discord allows you to change your username freely, so it is difficult to avoid duplication. Discord will add a code to each person to handle this problem. If you want to add one to your friend's list, click on the 'Add Friend' item. You will then see the following image.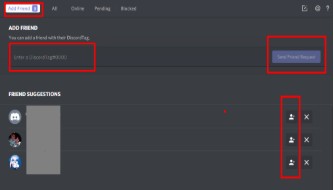 In 'Friend Suggestions' section, because my account is connected to Facebook so my Facebook friends using Discord are also found here. Just click the 'Add Friend' button to send an offer. 
If you want to add a person that is not recommended, enters that person's information including "username # code" as shown below. 


When you are in a chat channel, simply right-click the name of the person you want to 'Add Friend.'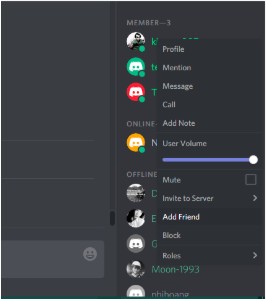 Of course, remember that you are only sending a friend request and you need to wait for them to agree.
How to join a Discord server
For Mac / Windows
To join a server you must have its invite URL. Copy the entire invite link of the discord server that you want to join.
Open your web browser and head over to "https://www.discordapp.com/".
Sign in into your Discord account.
Click on the "+" icon in the left column.
Click on "Join a Server".
Enter in the invite URL or paste the invite URL using Ctrl + V or Cmd + V.
For Android
After you have downloaded and installed the Discord app, open it on your Android device.
Tap on the "☰" on the top-left corner of the screen.
Tap on the "+" icon in the left column.
Enter in Invite Link of the server that you want to join.
Tap on Join.
How to stream on Discord
There are a lot of gaming platforms or text servers where the need for custom discord emotes might pop up. So I've recently switched from skype to discord. Tap this icon to toggle your camera view on or off. Clicking the name at the top-left will revert to the call in progress window. Can You Stream Directly to a Friend? Discord is a full-featured voice and text chat platform that allows you to set up large or small chat servers for your gaming, social, or business groups.
How to make bold in Discord chat?
Write your text normally, then put two asterisks around the words you want bolded: **abc**. Congratulations! Now your text is bold.
How to report someone on Discord
If you're the channel admin, you need to do this:
Navigate to Settings and Appearances to turn on Developer Mode.
Right click the user and select Copy ID for the User ID.
Paste it somewhere safe.
Select the three dots to the right of the message you're reporting and select Copy Link.
Paste it somewhere safe.
Right click your server name in the channel list and select Copy ID.
Paste it somewhere safe.
The Discord Trust & Safety team will investigate your report and go from there.
How to screen share on a Discord server
Unblock someone on Discord
If you want to unblock someone, follow these steps.
Find the person you blocked from the Block list.
Select their name, right click and select Unblock.
How to see deleted Discord messages
Unfortunately, once a message has been deleted by the sender, there is no way to retrieve it. This was confirmed in early 2018 by Discord's engineers on their official Twitter account.
How to add spoiler tags on Discord
On a Computer
In a chat, highlight the specific part of the message you want to mark as a spoiler.
Right-click on it and select "Mark as spoiler".
Send the message.

On Android and iOS
This is a universal method for both Android and iOS apps.
Open a chat inside the app.
Wrap the text in bars ||Insert spoiler|| and they will appear as a spoiler.
I wish you had great gaming and chatting experiences with your friends with the app. In the near future, Apkafe will instruct you on how to make a Discord bot. Stay tuned for this!