Product Description
Happy Color for Android is one of the attractive coloring apps for both children and adults. In the app, there are many art paintings with numbers for players to unleash their creativity.
Relieve stress with Happy Color for Android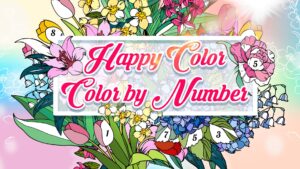 Are you stressed? Let's enjoy the free pictures of Happy Color – Color by number and the unique coloring experience that helps relieve stress. Explore many detailed paintings by subject: Animals, flowers, mandalas, holidays, and more.
With the entertainment app Happy Color, coloring has never been so easy and fun as every part of the drawing is marked with numbers. Open your color box and discover interesting surprises that gradually come up with each of your color strokes. Enjoy the fun of coloring with Happy Color by drawing and sharing your favorite paintings with friends and family. Show everyone your creative color schemes.
The App has a lot of unique paintings on diverse topics.
All pictures in Happy Color are marked with a number. Color by number and create beautiful pictures to save and share with friends. The developers X-Flow will continuously add more new pictures to the app in the future.
With an interface similar to No.Color and No. Draw, but instead of coloring on the drawings as pixel graphics, Happy Color for Android will give you the experience of coloring on soft drawings like in a real coloring book.
Download Happy Color for Android and find unique paintings and discover the joy of coloring now! Coloring has never been so simple and fun with Happy Color for Android.
This app is not only exciting but also helpful for users to develop better hand-eye coordination, concentration, color recognition, and numbers. The application also helps children practice drawing and coloring skills. For adults, Happy Color is really an extremely stress-relieving tool. Relax and enjoy the magical spiritual therapy of coloring with Happy Color!
In particular, Happy Color for Android does not take up too much phone capacity, so you can unleash coloring without worrying about data loss. Enjoy the magic spirit therapy of coloring with Happy Color for Android.
Salient features of Happy Color for Android
Experience coloring by number everywhere and whenever you want without the need for crayons or paper.
Discover highly detailed paintings with diverse topics.
Color by numbers to relax, relieve stress, ease negative emotions, and find peace of mind.
Discover the fun of coloring art.
Let's create colorful pictures and improve your mood with Happy Color for Android!