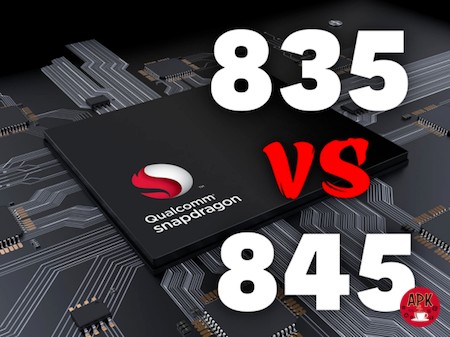 Snapdragon 845 is the latest and most modern microprocessors chip in the high-end chip line of world-renowned chip company Qualcomm. Let's compare Snapdragon 845 vs 835 to see how powerful they are!
Compare the Snapdragon 845 with Snapdragon 835 to the specifications
Over the years, generations of Qualcomm processors are increasingly being upgraded with higher performance and more advanced graphics. We already know that Snapdragon 845 and 835 are all produced on the 10nm process.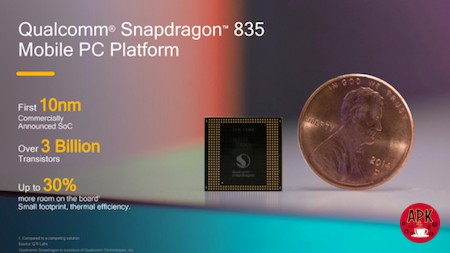 However, the next generation of chips is always more efficient and saves energy than the previous one.
A comparison of the specifications
| | | |
| --- | --- | --- |
| Specifications/Generation | Snapdragon 845 | Snapdragon 835 |
| Production process | Second generation 10nm (LPP) | First generation 10nm (LPE) |
| Processing core | 4 Kryo 385 cores, clocked at 2.8GHz (custom Cortex-A75) 4 Kryo 385 cores, clocked at 1.8GHz (custom Cortex-A55) | 4 Kryo 280 cores, clocked at 2.45GHz 4 Kryo cores 280, 1.90GHz clock |
| GPU | Adreno 630, with VR support | Adreno 540 |
| Modem | Snapdragon X20 LTE (5xCA) | Snapdragon X16 LTE (4xCA) |
| AI Processing | Hexagon 685 | Hexagon 682 |
| Video Processing | 4K HDR at 60 frames per second | 4K at 30 frames per second |
| Image Signals Processing | Qualcomm Spectra 280, supporting 16MP image sensor, ensures 60 frames per second | Qualcomm Spectra 180 |
| Security | Independent Security System (SPU) | Qualcomm's Security System |
| Other | Fast charger 4+ Support 2 SIM LTE Multi-frame noise reduction (MFNR) Slow motion video recording (720p 480fps) | Quick charger 4 |
Through the above comparison table, we can see that the Snapdragon 845's configuration is only slightly higher than the Snapdragon 835. However, with Snapdragon 845, manufacturer Qualcomm announced that: "Our new Spectra camera and Adreno graphics chip increase performance by about 25% compared to previous generations while saving more than 30% battery." Therefore, the Snapdragon 845 will save much more battery power than the Snapdragon 835.
Galaxy S9 will be the first smartphone equipped with Snapdragon 845.
In particular, the image captures capabilities, Snapdragon 845 will have Adreno 630 graphics processor and image signal processor Qualcomm's Spectra 280 allows shooting and recording "Ultra HD Premium" videos with 60 frames per second quality. Qualcomm believes that the Snapdragon 845 will make shooting on smartphones so good that phones containing this chip will reach over 100 points on DxOMark. But that also depends on how device manufacturers deploy this chip's features.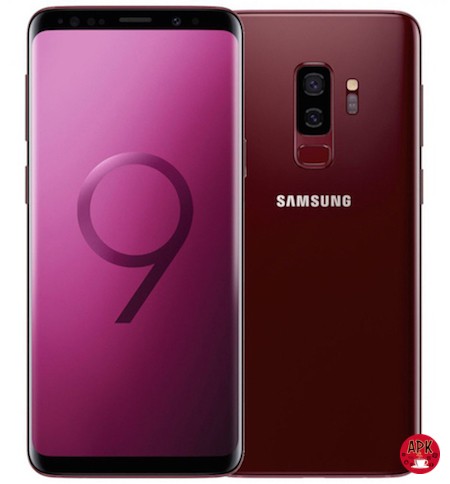 The Snapdragon 845 will appear first on the Galaxy S9/S9+ in the US version.
With the latest Qualcomm chipset, the Snapdragon 845, Galaxy S9 and S9+ are expected to become the most powerful Android devices ever. According to a leaked source on GeekBench, Galaxy S9+ with the code SM-G965 has reached a single point of 2422 and a multi-core score of 8351. This is the highest score ever on Samsung models so far. Previously, this number was only about 2000 for single-point and 6500 for multi-point.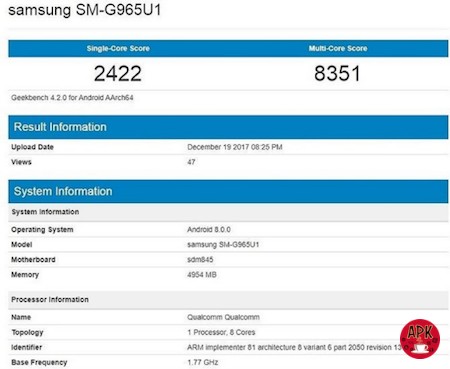 Plus, Snapdragon 845 running on Samsung Galaxy S9+ achieved an impressive benchmark. 
It is expected that Galaxy S9+ and Galaxy S9 couple will be officially launched on February 25th here at MWC 2018 and sold out a few weeks later. Not only Galaxy S9/S9+ but also flagship from Xiaomi, LG, HTC, etc. will also equip this latest chip in turn for its high-end phones. By then, we will have more specific comparisons of the Snapdragon 845 and 835 in real terms. Please join us and wait!