ESPN is an American multinational sports channel considered the most successful. It is 80% owned by Walt Disney Company and 20% by Heart Communications. ESPN was founded in 1979 and as of 2018, in the US, ESPN has more than 80 million pay-TV households. Today, ESPN broadcasts in more than 200 countries. ESPN broadcasts a wide variety of live sports, highlights, talks, and documentaries.
ESPN+ (or ESPN Plus) is one of America's top three subscription video streaming service brands (along with Disney+ and Hulu). ESPN+ is an add-on to ESPN. Featured content on ESPN+ includes combat sports, college sports, cricket, rugby league, football, golf, and apparel. As of the end of 2020, ESPN Plus has 12.1 million subscribers. ESPN Plus streams exclusive live sports subjects with no need to apply. All in HD.
From your phone, you get minute-by-minute updates on scores, news, games, download highlights and live streams through WatchESPN. Press the headset button to listen to national, and regional ESPN Radio live. Sign in and personalize the ESPN App to get scores and notifications on all your favorite teams and leagues!
The ESPN App is now available on Android TV! Live streaming via WatchESPN gives you live sports as well as breaking news and analysis you can't miss.
How much does ESPN+ cost?
Currently, ESPN+ no longer offers a free trial. The low cost of ESPN+ suggests that it's a great option for streaming sports outside of a bundle. You'll need a subscription to watch ESPN+ sports and shows on your TV. ESPN+ allows you to cancel your monthly subscription at any time.
ESPN+ ($6 a month or $60 a year). As such, the annual plan will save you about $12 a year compared to paying for 12 months with the monthly plan.
ESPN+, Disney+, and Hulu ($13.99 a month). This plan saves you $6 per month compared to getting all three services individually. Existing ESPN+ members can upgrade to this plan without having to cancel their current subscription.
How to download the ESPN on the APKAFE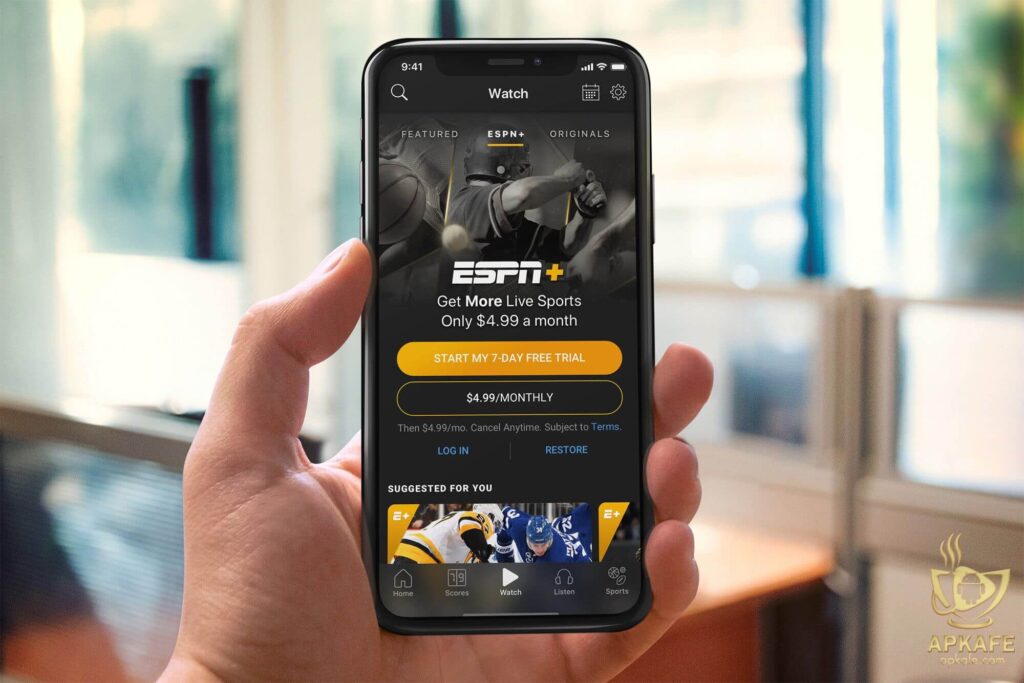 You need to click on the link above the article. ESPN is now available on all operating systems. You can choose the operating system that suits your needs, such as iOS, Android, or Microsoft. Then you proceed to install on Google Play or Appstore and use as usual.
How to install ESPN+ on Android devices
Open the ESPN app page at the Google Play Store on your Android device.
At the ESPN app, tap Install. Enter your password, PIN, or fingerprint to confirm the settings.
Once the app has been installed, tap Open. The ESPN app will need to confirm permissions. Please make your choice.
If you're signed up for ESPN+, click Login. Sign in with your ESPN account tied to an ESPN+ subscription.
Tap the Watch button in the middle of the bottom navigation bar. In the Watch section, find the ESPN+ tab in the top center.
How to subscribe to ESPN+ App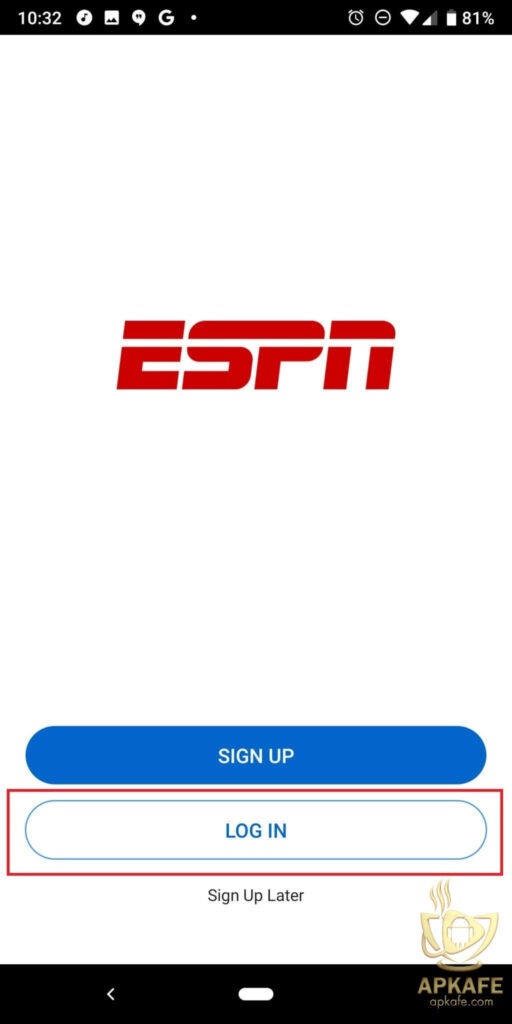 1. Go to the ESPN+ site. Click the button labeled Sign Up Now.
2. Sign in with your ESPN.com account. If you don't have an account, you can click the Sign-Up link to create an account.
3. Enter your payment information. Click Buy ESPN+.
4. Check information. ESPN+ will let you know how much you will be billed and when it will be renewed.
5. You will see a Success page if everything is done right. Click Start to start watching ESPN+.
How to watch ESPN Plus on TV
1. Download the ESPN app. Open ESPN on your streaming device. Click the Settings icon in the upper right corner of the screen.
2. Open account information. Select Sign in to your ESPN Account to view your activation code.
3. Go to espn.com/activate on your phone, tablet, or PC. Follow the instructions on the website. Your TV will confirm when you've successfully linked your ESPN+ account.
4. Return to the main screen of the ESPN TV app. Select ESPN+. Your TV is now set up to watch ESPN+ content.
5. If you have a Chromecast, you can cast ESPN+ from your phone to your TV. If you have an older Apple TV, you can use AirPlay ESPN+ from your iPhone to your TV.