LINE Rangers is an online strategy game with unique 3D graphics created from familiar sticker characters. It can be said that LINE Rangers is like the new breeze of the tactical game genre that does not make players stressed yet still remain the characteristic attraction and drama of strategy battle.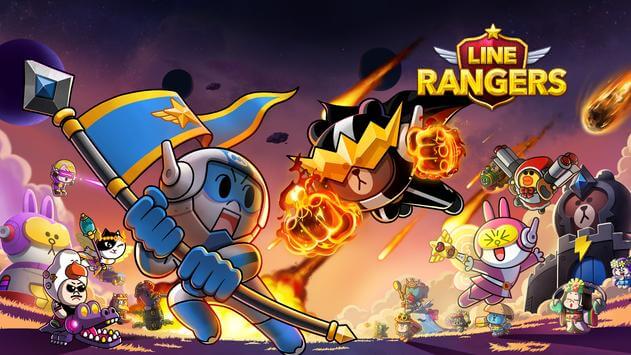 What makes LINE Rangers attractive
Simple gameplay
Tough battles
Beautiful graphics increasing by level
The ability to build a concentrated team of strength
Diversity of battle screen system
In LINE Rangers, LINE characters will become heroes against aliens in various forms through 60 levels where players can conquer and save Sally the chicken, as well as choose from a wide selection of items to fight the enemies.
Main features of LINE Ranger for Android
Massive Characters: LINE Ranger includes 150 characters with distinct personality traits. In particular, each character owns a face with different emotions – happy, sad, angry, scowl, etc.
Powerful Upgrades: Recruit, train, and engage your characters in battles or combine them to create unparalleled sources of power.
Play online via LINE: Use your LINE Messenger account and invite friends to play together to create multi-strength squads.
Numerous exciting events: Missions are also organized into events to stimulate the fighting ability of gamers, including Attendance Check, Master Ranger, Ask Friends for Help, and Achieve Levels.
Game instructions
For the first time playing, you will receive a gift of 5000 coins and more than 30 rubies.
In Windy Valley, you have to destroy the enemy tower located in the center to win and use the army of mines to destroy the rangers.
Power up your forces to maximize combat speed.
When the rocket is full of fuel, use it to attack and hit harder.
Try to win three types of treasures to unlock secret items.
Stock up on as many minerals as possible to power up your characters in extreme battles.
The number of minerals needed will depend on the type of Ranger.
Create heavenly hailstorms to freeze enemies.
Use the Gacha machine to collect characters and a variety of powers.
Step 1: Go to Settings.
Step 2: Check your Android device's storage for availability
Step 3: Choose Secure and select Unknown Sources.
Step 4: Find the LINE Rangers app.
Step 5: Tap the Download button.
Step 6: Start downloading the file and wait a few seconds for the apk file to finish downloading.
Installation steps for LINE Rangers APK
Step 1: First, you have to uninstall the original version of Line Rangers Mod APK if you already have it installed.
Step 2: Then, download LINE Rangers APK on our website.
Step 3: After completing the download process, find the APK file and install it.
Step 4: You must enable "Unknown sources" to install the app.
Step 5. Now, you can open and enjoy LINE Rangers APK
Pros and cons of LINE Rangers for Android
Pros
Elaborately built with a large number of characters, a diverse collection of items, and clearly divided loot, treasures, and upgrades.
Does not contain third-party paid IAP packages.
Five challenging game modes: Normal, Premium, Legend, and Legend 5+1.
Cons
The process of starting the game will take a long time.
The game speed will depend on the network connection.
Some items require players to pay real money to use them.
The in-game customer support service supports only a few languages: English, Simplified Chinese, and Japanese.