Product Description
Instagram is the world's largest photo and video sharing application/social network. With this application, you can take the picture from a lot of different templates, then instantly share them with your friends and your relatives.
Best features
+ It is completely free. Just over 13 years old, you can download, install, and use Instagram.
+ Allows you to take the photos from your phone and then add the unique effects as you like before these photos are posted.
+ Enable you to combine the filters and the tools to edit the clips into a vivid video. With 19 photo-editing effects, you're sure to find a perfect effect for your photos. You will have impressive photos and certainly, they will attract a lot of friends' likes.
+ As a social network, your photos and videos will quickly be distributed to all your friends. Conversely, you will see images of all the people who you are following their Instagram. Moreover, this app also values your privacy. You have the right to control people's comments and decide who can view your photos.
What's more?
+ Continuously adding and updating new features
* Instagram has now been upgraded and put in many exciting new elements that you should explore such as the face filter with fun effects.
* Stories for video capture or selfie. The Rewind feature will support you to record a short video with the content being repeated upside down quite nicely. You can add any Hashtag by entering related keywords with the # symbol in front of the content. The Eraser Brush tool will help you to erase the line of a drawing.
* In addition, Instagram also supports you to save things that you are interested in Bookmark, to post multiple photos and videos at the same time, to use Instagram Offline mode on Android 7.0 Nougat operating system, to add the two times account confirmation mode, to self-cancel messages for the purpose of preserving privacy.
Instructions for downloading the Instagram APK
To download to Instagram, you can simply select one of these download links at the top of the article corresponding to your smartphone operating system.
How to use the Instagram
+ Login or create an Instagram account
When running the Instagram app, you have two options are registering a new account or signing in to access it instantly. This app simplifies the account registration process by using your own Facebook account or your personal email address. With just one click, you already have an Instagram account to use right now.
+ Capture and edit photos with videos
The most notable feature of this app is image processing. You click on the camera icon in the middle of the menu bar to take a new photo with the built-in camera on Instagram. Here, you can activate the grid mode to align the composition, change the main or secondary camera, or turn on/off the flash. You just need to click on the video-recording icon if you wish to make a record of and share the short video for 15 seconds.
Immediately after creating photos and videos, the app will direct you to the edit screen. At this place, you can apply 20 artwork filters such as brightness adjustment, tilt angle, contrast, warmth, density, saturation, shadow, blur, slide lens, etc.
+ Share your photos and videos
Click the drawer icon in the top right corner of the Home screen to switch to a direct photo-sharing feature. In this place, you can distribute the photo or video directly for the specific person and only they can see this image, unlike the public sharing feature with everyone. You just need to click the + icon to add a photo or video, write a comment, and search for a shared person's name to complete this process. Certainly, Instagram will also recommend some typical user names for you to choose and share more effectively.
Conversely, if you want to share the photo with everyone, please select the Followers tab on the Share To screen. In addition to sharing photos on Instagram, you also share them on other popular social networks like Facebook, Twitter, Tumblr, Foursquare, or Flickr.
How to delete followers in Instagram
Step 1. Go to the follower list.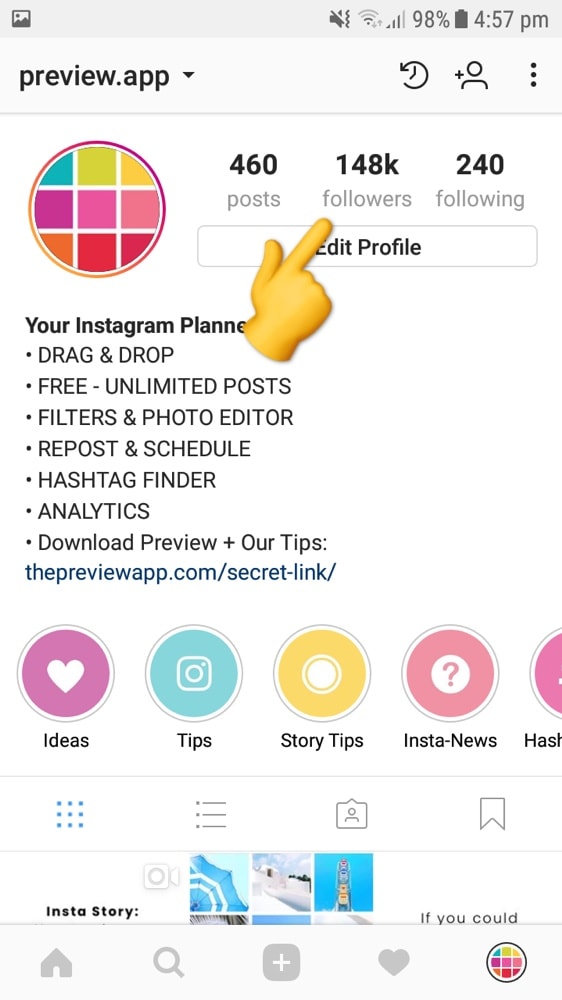 Step 2. Press the three dots next to the account you want to remove.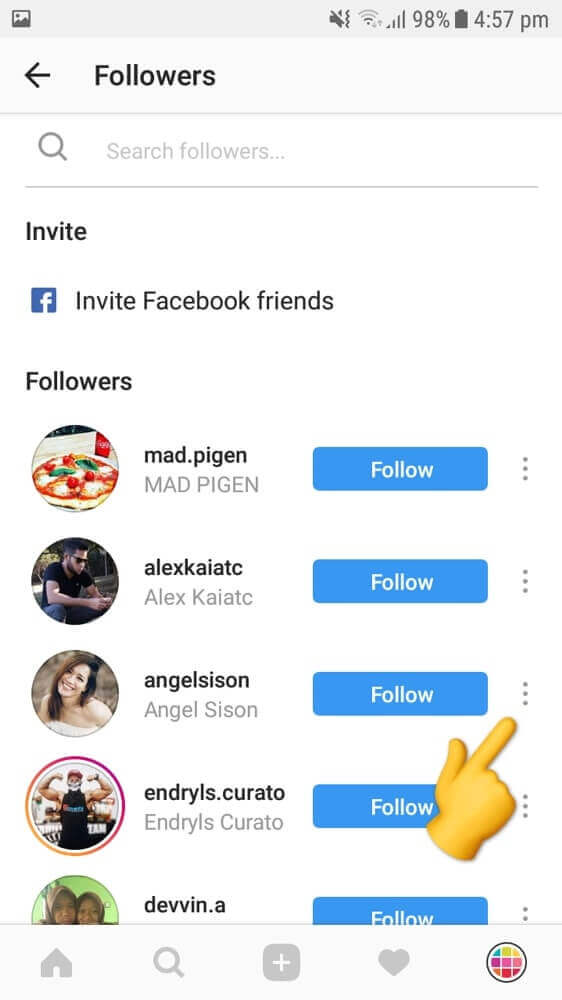 Step 3. Select remove and finish!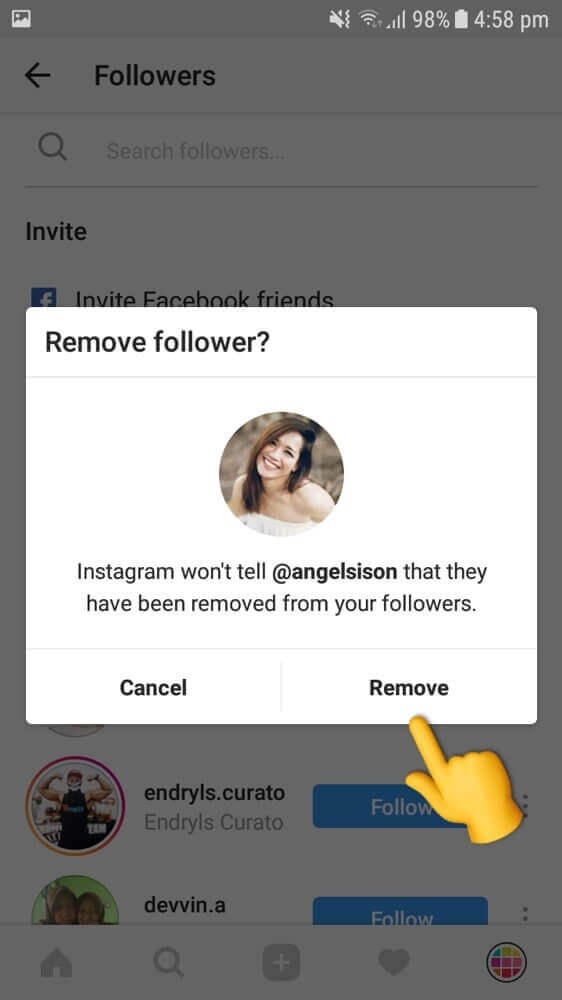 I am sure that the above guidelines will be helpful for those who are not familiar with Instagram. Apkafe.com will soon update how to get free Instagram followers in the next article for you. Just wait for it!