Tower Defense games are an extremely attractive game genre requiring players to wring their minds to overcome challenging game rounds. In such games, players have to prevent enemies from achieving certain goals, such as preventing them from reaching your bases and castles. Or, you must build towers, bunkers, and armies to stop them. The game requires players must have a sharp and flexible mindset to defeat each attack from the enemy.
If you are a fan of this game genre, you should refer to the list of top 6 best Android Tower defense games on Play store free download below.
1. Fieldrunners 2 – A recall for the Tower Defense game
This is a hit game officially on the Play store download store. Fieldrunners 2 has more levels, weapons, and enemies as well as ways to attack than the first version. 
The game takes players into the background of the world threatened by the hegemonic ambition of the eccentric. SubaLabs scientists must build weapon systems to fight the enemy. However, the game requires an ingenious commander to win the battle, and it is also the role of players. Fieldrunners 2 has achieved great success on iOS. For now, it is like a gift for many Android users.
2. Kingdom Rush – A popular classic Tower Defense game on Play store
Kingdom Rush is one of the most highly-acclaimed defense games in terms of both gameplay and graphics.
In the game, players must build fortresses to protect their kingdom from the onslaught and invasion of more than 50 different types of enemies with increasing power according to each round.
3. Anomaly 2 – Top game with the most downloads on Play store 
Anomaly is one of the most attractive Tower Defense games on Android that anyone cannot ignore. Especially, those who have ever played Anomaly Korea (Anomaly 1). Both versions are Tower Defense games. However, in version 2, instead of arranging the towers to defend, you will play a leader of your convoy to move to the final destination quickly with minimal damage.
With Anomaly 2, you will face the challenges of tactical thinking ability, expressed through continuous explosive attacks with high intensity and strength.
Players can also upgrade their fortress to increase defensive power when encountering difficult opponents. In addition to the fortress, players can also hire heroes to join the fight against the invaders. You can easily download this game for free at Play store apk.
4. Tower N' Trolls – The most addictive Tower Defense game on Play store
The most significant advantage of this game is that it has excellent design graphics and gameplay at a fast pace. Although still in the style of traditional games, Tower N' Trolls have enough attractiveness and challengings to attract players.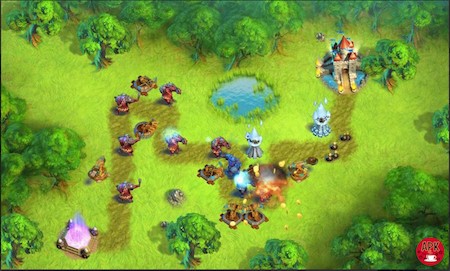 According to many famous game sites, Tower N' Trolls is one of the most "addictive" Tower Defense games today.
5. Defence Effect HD – The must-try Tower Defense game on Play store
The game is set in 2020 when the earth is engulfed in the darkness of wars and conflicts. You play as a warrior to protect your land. In particular, you need to find ways to harness the power of many different weapons. The game has three modes: "Campaign" mode, in which you have the opportunity to try each weapon for free; "Survival" mode, in which you have to buy weapons and in "Infinity" mode, you will encounter an unlimited number of enemies.
Defence Effect HD was introduced as a game whose high-resolution graphics and improved sound effects.
6. Castle Defense – The game attracts many gamers on Play store 
Castle Defense is an interesting Tower Defense game, voted one of the best strategy as well as defense game on the Playstore. The graphics in Castle Defense are classic with a whimsical cartoon style, perfectly displayed on the high-definition screen. Along with many significant graphics effects, you will be like in the ancient and vivid battlefield.
Above is just a list of outstanding Tower Defense games attracting the most players on the free Android Play Store for your reference. Besides, there are still a lot of other cool gamers that I have not mentioned. You can learn more about these games below to choose a good game to play.