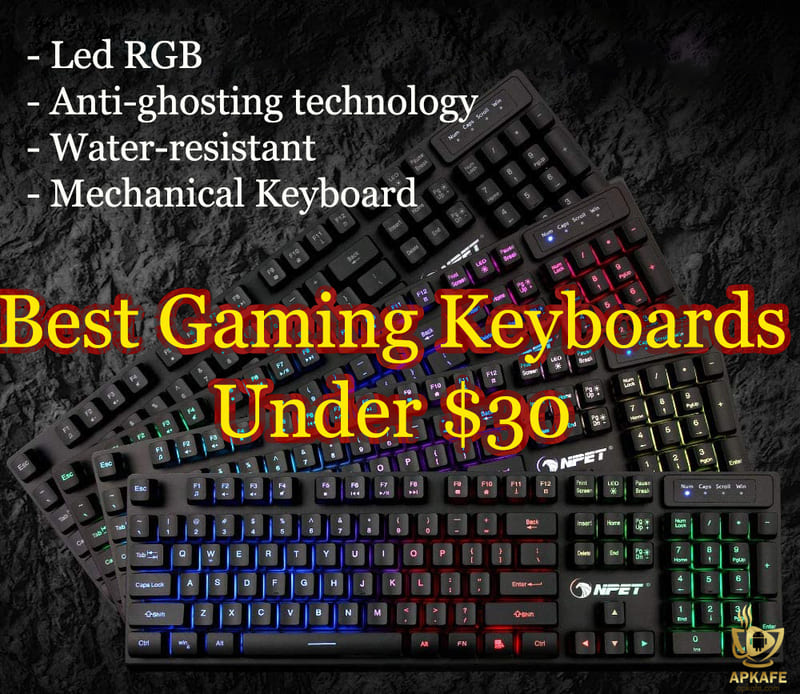 Nowadays, it's not challenging to find a gaming keyboard that both fits your budget but also includes numerous advanced features to take your PC gaming experience to the next level. We already have an article of gaming keyboards under $20, today, we will continue to offer you some names of best gaming keyboards under $30.
Don't miss: 5 BEST GAMING KEYBOARDS UNDER $20 THAT YOU CANNOT IGNORE
Top gaming keyboards under $30
1. Redragon K502 RGB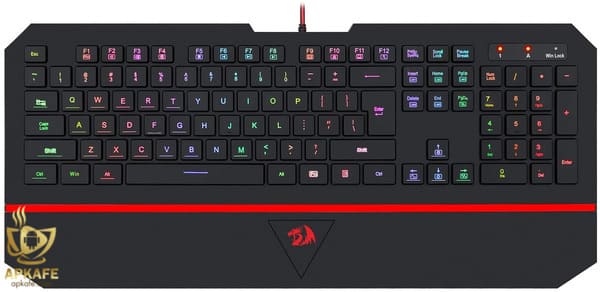 This is the finest quiet mechanical gaming keyboard under $30 for gamers. It includes wired mechanical gaming keyboards that are less resistance and requires less power to sort on. The Redragon K502 has 25 conflict free (n-Key Rollover) 12 multimedia keys. Also, it comes with full numeric keypad and a gold-plated corrosion free USB connector for a reliable connection and ultimate gaming performance.
2. NPET K10 Gaming Keyboard
The keycaps are coated with UV and structured with the ABS material. This feature ensures that the key design never gets fade. It features a stainless-steel base that makes it sturdy and durable. Plus, it contains 104 keys for efficient work. 13 keys used as multimedia key combination whereas, 26 keys are non-conflict. This standard keyboard used to increase efficiency. It has an ergonomic design that provides a comfortable feeling during work. Not only that, but its design is also protected from water and other liquids.
3. Rii RK100+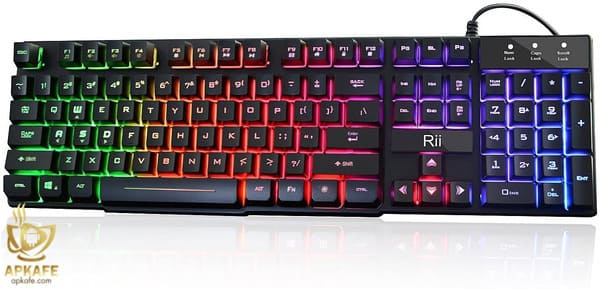 RK100 itself is stunning with a rainbow of LED backlit lights and compact design. There are NO such problems with this keyboard in Linux. Just plug it in and begin using it after your computer boots.The keyboard looks great when lit and the characters are easily discernible while not being to large and "garish". The size of the illuminated letters on each key are aesthetically pleasing and in well lit situations does not require a backlight to determine the which character/key you are pressing but are still not quite as clear as a non-lit keyboard with printed characters in high contrast. Noted that the backlit can't support the Mac os and Linux OS system and no special key settings for gaming mode, for example, anti-ghosting or WIN lock.
4. KLIM Chroma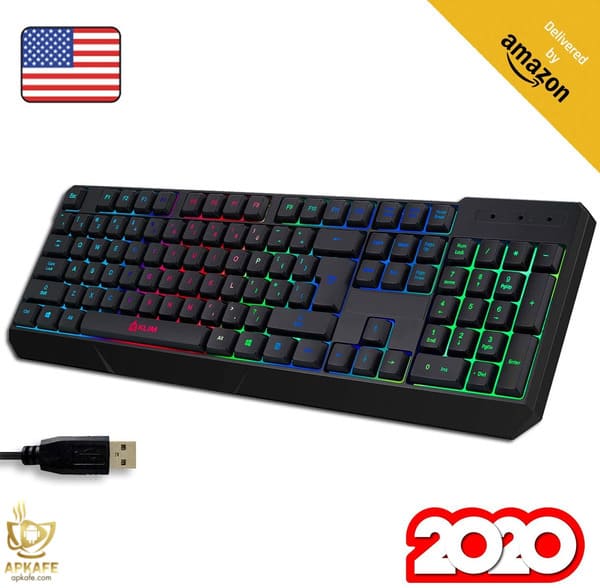 With a response time of only 2 ms, the KLIM Chroma is among the very best gaming keyboards under $30 on the market thanks to its fast membrane keys. Moreover, the KLIM Chroma was conceived to be as quiet as can be, especially compared to a noisy mechanical keyboard. Each keystroke produces a soft sound, providing a very pleasant typing experience. The keys have a very short travel distance which will make your typing speed improve significantly. Ideal in-game to get faster reaction times.
5. Eagletec KG040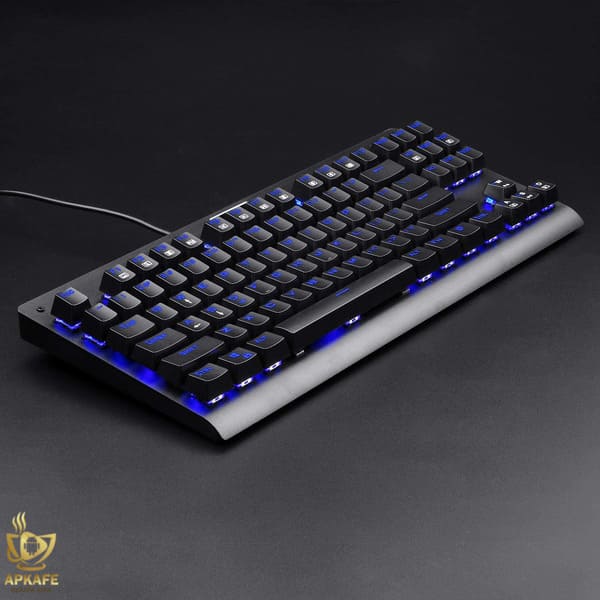 The KG040 Mechanical Keyboard Keys offer medium resistance, crisp click sound, and precise tactile feedback for ultimate typing and gaming performance. The switches are of the highest quality, offering a life span of over 50 million keystrokes. Also, all 87 mechanical keys are conflict free (n-Key Rollover) Featuring 12 multimedia keys WASD Arrows Key Exchange, Lockable Windows key, adjustable rear feet and a Non-Slip spill proof Ergonomic Design. The board also comes with high speed corrosion free USB connector for a reliable connection.
6. LANGTU L1 Black/Silver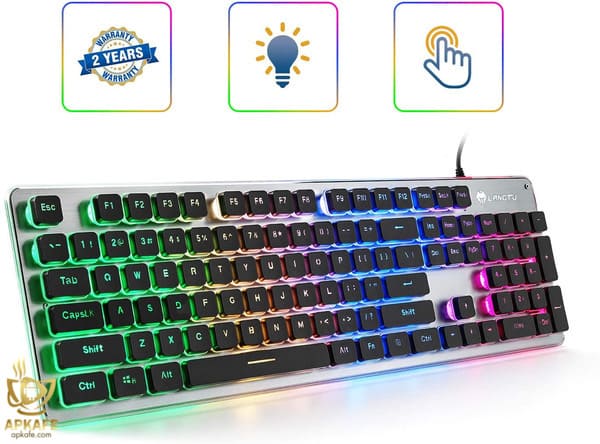 The keyboard is designed with Aluminum alloy panel. Cool brushed metal panel not only enhances the texture of the keyboard, but also extremely improves durability of the whole keyboard. The double-colored injection keycaps offers crystal clear uniform backlighting and the letters will never fade away. It has water-resistant function, you don't have to worry about spilled liquids damaging the keyboard
The scientific stair-step keycap design makes it easy for the finger to reach all keys, maximizing the comfort of your hand to meet the needs of a long-time game or work. 25 keys Anti-ghosting technology allows you to use more combination to win a game. Meanwhile, 12 combinations of multimedia keys facilitate the operation of your work or game and improve efficiency.
7. VicTsing Gaming Keyboard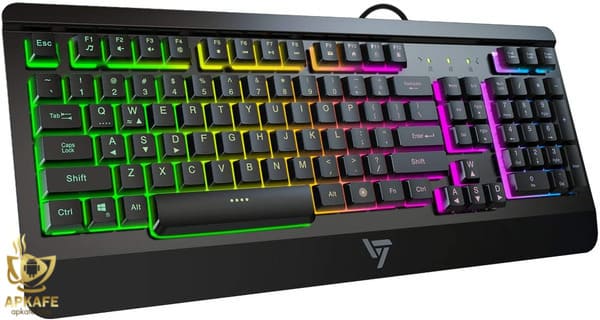 This Victsing computer keyboard under $30 is specially designed with professional Blue Tiles which are as comfortable as you're typing in the air. With 12 multimedia shortcut keys, it will provide you the best level flexibility. It's constructed of high quality caps for a lengthy lifespan of keys with 50 million keystrokes. Alternatively, the keyboard is made from a solid sheet of metal that has the perfect shape to make it super sturdy and very comfortable to type on without wrist support. Crater structure keys make this VicTsing gaming keyboard typing easily and silently, without loud sound. This computer keyboard will be a good choice for you to work remotely from home, without disturbing family.
8. PICTEK RGB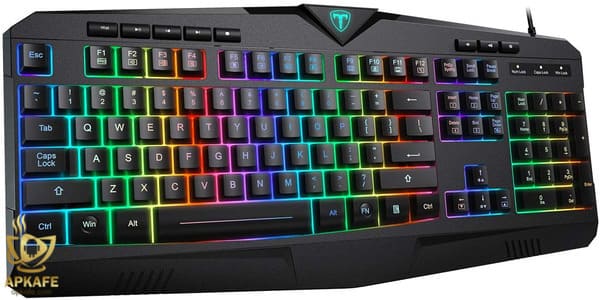 PICTEK offers you five backlight modes from the changing of a single color to seven rainbow colors. It also provides you with the option of adjusting four-degree lightness. It comes with eight multimedia keys that provide a better experience to the users. Meanwhile, the 12 shortcut keys will help a lot during your work or daily use to promote the efficiency and enhance the using experience. Compared to common computer keyboard, its crater architecture stands out with independent structure and 2 times longer key life which passed over 10 000 000 times of keystroke test.
9. MK1 RED LED Backlit Mechanical Keyboards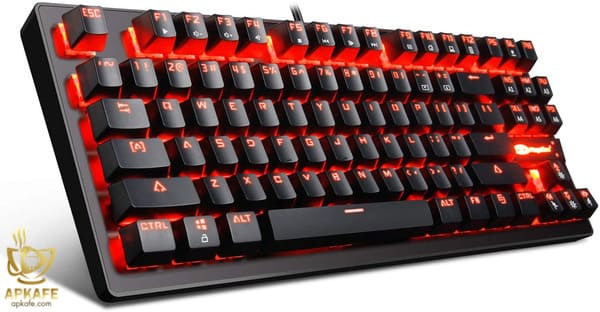 This sturdy keyboard base is made off Aircraft-grade aluminium, and the compact space saving design with 87 full size keys. All of the keys are 100% conflict free, anti-ghosting. Also, 12 multimedia keys WIN can be disabled for gaming. The keyboard also features customized mechanical switches designed for longevity, responsiveness, and durability. In general, this mechanical gaming keyboard under $30 is wonderful with with medium resistance, audible click sound, and tactile feedback.
10. E-YOOSO Mechanical Keyboard Wired Gaming Keyboard – 104 key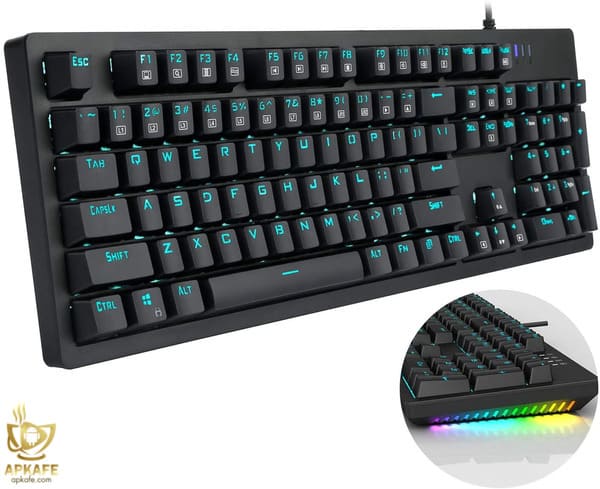 The E-YooSo keyboard comes with Blue switches,ideal for TYPING and GAMING. In fact, Blue switches deliver accurate, responsive key commands. Moreover, the crisp audible click sound and tactile bump feedback offer you fully freely experience. The anti-ghosting technology support multi-keys work simultaneously ensure never miss a single key-press or confuse your commands in any use case scenario. 12 combinations of multimedia keys facilitate the operation of your work or game and improve efficiency.
11. Dell Wired Keyboard – Black KB216 (580-ADMT)

The Dell Wired Keyboard provides a convenient keyboard solution for everyday home or office computing uses. The layout is simple and clean, while the chiclet style keys are evenly spaced out. They have just enough resistance to pop back out quickly after you press them. It's light, yet feels well made and solid. The rubber feet at the bottom prevent it from slipping, and the light indicators in the top right corner are tiny white LEDs that look modern and minimalistic. Everything about this keyboard seems great enough for $20. Such a great deal!
Read more:

TOP 7 GAMING KEYBOARDS FOR MAC
9 BEST GAMING KEYBOARDS FOR FORTNITE IN 2020
5 BEST LOGITECH GAMING KEYBOARDS