Build your dream cookie kingdom and reclaim the lost land by fighting the evil forces lurking in the dark with Cookie Run: Kingdom, a game from the creators of Cookie Run: OvenBreak. In the game, players can team up with friends in Clan battles, fight with other guild members and defeat new enemies. Also, together to fight against powerful enemies to level up, as well as get soul stones, guild level up items, guild treasures, and more.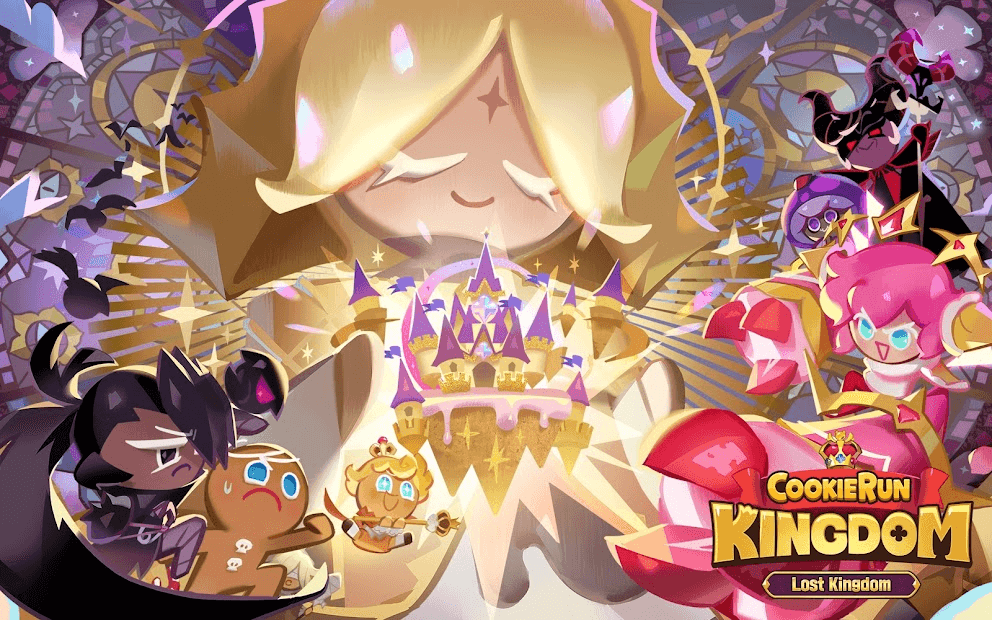 Cookie Run: Kingdom has an epic role-playing story in which you will team up with the hero GingerBrave and some other familiar Cookies friends. Build your own Biscuit Kingdom and a team to fight together in a sweet fantasy role-playing adventure to uncover the kingdom's past story and defeat the darkness that stands in its way.
I. Information
Genre: Strategy
Graphics: 2D
Mode: Singleplayer / Multiplayer
Age: 10 and up
Publisher: Devsisters Corporation
Platform: Android / iOS
Release date: 2021
Game price: Free
II. How to play
1. Gameplay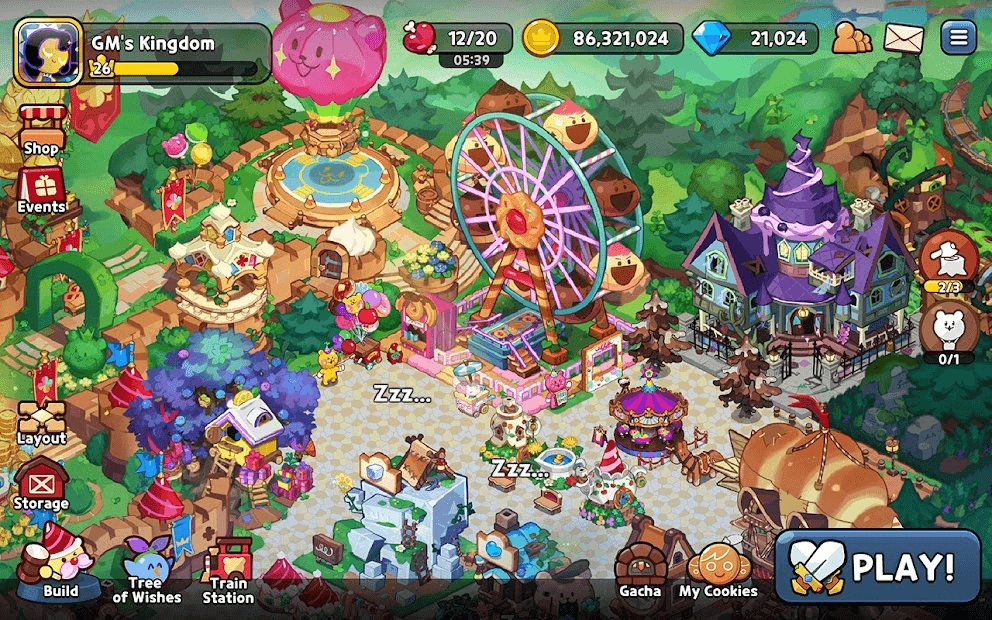 The Candy Kingdom is being attacked by monsters and the kingdom's strongest heroes have failed to stop them. You are the last hope to rebuild the kingdom, gather the most powerful biscuit warriors to destroy monsters, and bring a peaceful life to everyone.
2. Mission
Players have to destroy all monsters at different levels. In addition, the publisher also creates a variety of side quests from simple as upgrading characters to super difficult, like destroying a boss with savage power, or events that only appear in certain locations and special occasions that allow players to hunt for cool items and characters.
3. Cookie warriors
Biscuit warriors, including numerous heroes with different shapes and skill sets, are those who possess the power to face monsters. They will be divided into the following main categories:
Warrior: The heroes are suitable for the first position of the squad with high resistance and large amounts of health, short-range, and physical damage.
Gunners: The heroes use bows, crossbows, guns, etc, with long-range and the ability to put high damage in a short time.
Mage: The heroes use magic power, deal with damage spread, and create many effects that are beneficial to allies and detrimental to enemies.
Assassins: The heroes feature the highest attack speed in the game, which can be fatal but compensate for the short range and paper blood.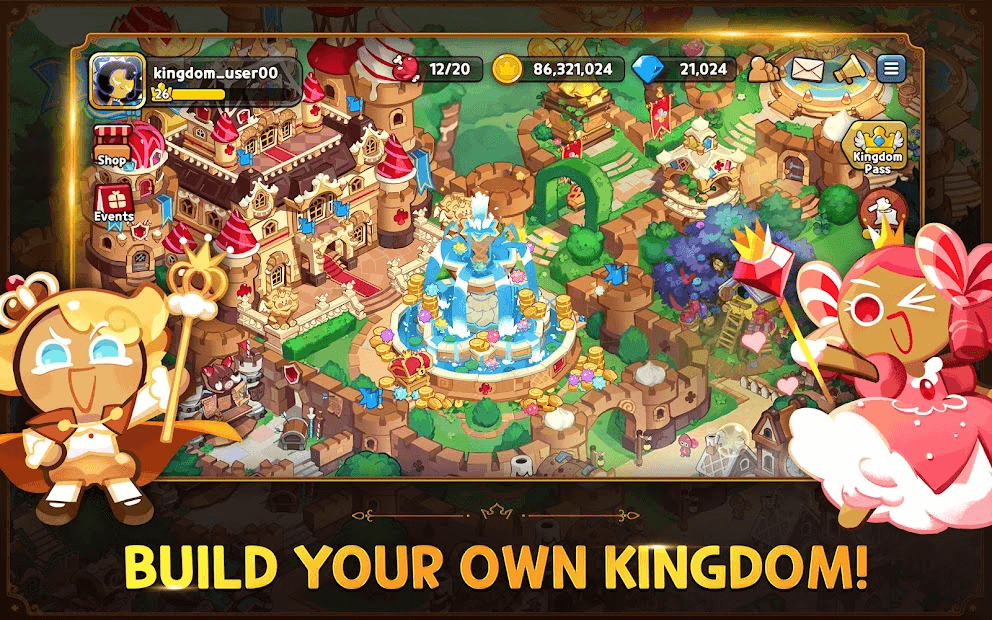 4. Buildings
To create their own kingdom, players need to construct multiple buildings, each of which will take on a separate function – creating resources after a certain time, forging equipment to increase character strength, etc.
5. Map
The game's map is rather large with countless lands. Each land will be governed by a super giant boss and his own minions. Players can only unlock the following land if they successfully pass the last level in the previous one.
You can download the app Cookie Run: Kingdom by clicking the button above the article to start the download. Once the download is complete, you'll find the APK in the "Downloads" section of your browser. Before installing this app on your phone, make sure that third-party apps are allowed on your device.
To do this, open Menu > Settings > Security > and check for Unknown Sources, so your phone can install apps from sources other than Google PlayStore.
Once you've completed the above step, access "Downloads" in your browser and tap the downloaded file. An installation prompt will appear asking for permission, click Agree. When the installation is complete, you can enjoy the game.
Basic game instruction for Cookie Run: Kingdom newbies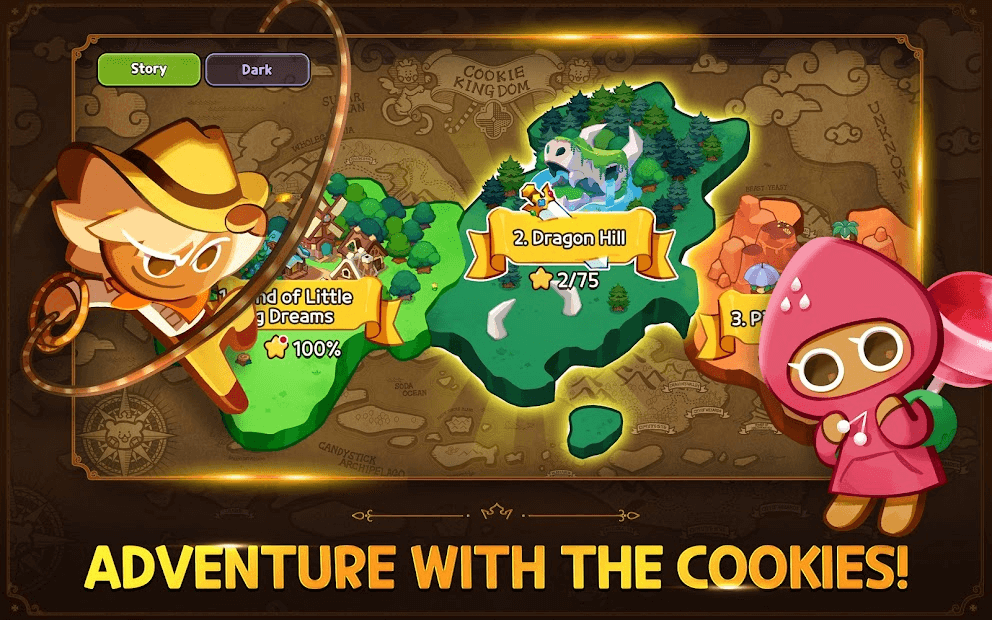 A. For KINGDOM
1. Cookie house
This is the BEST way to farm exp, so don't hesitate to maximize all even when you have to spend rarities or gold.
2. Production buildings and product ranks
– You should maximize the production buildings of wood, green jelly, rock sugar, milk, cotton, etc. (when possible) because they can be tier 1 products that require up to tons. Additionally, you can invest in opening more slots overnight.
– The higher the building level, the more time it takes, therefore, try to build or upgrade only when you need to raise the castle. If you rush these buildings too quickly, it will be very difficult to craft, run trains and ships.
– Always crafting, don't let the building rest, even when you're off.
3. Landmark
– The most preferred landmarks are the ones that increase the stats for cookies (ATK>DMG RES>CRIT>DEF>HP) and the clock building that reduces crafting time by 10%. Buy and maximize when possible!
– When you have more extra money, buy the rest as they are also useful, not just essential.
4. Wish tree
This is the BEST way to farm gold.
5. Belly train
This is the BEST way to farm rarities.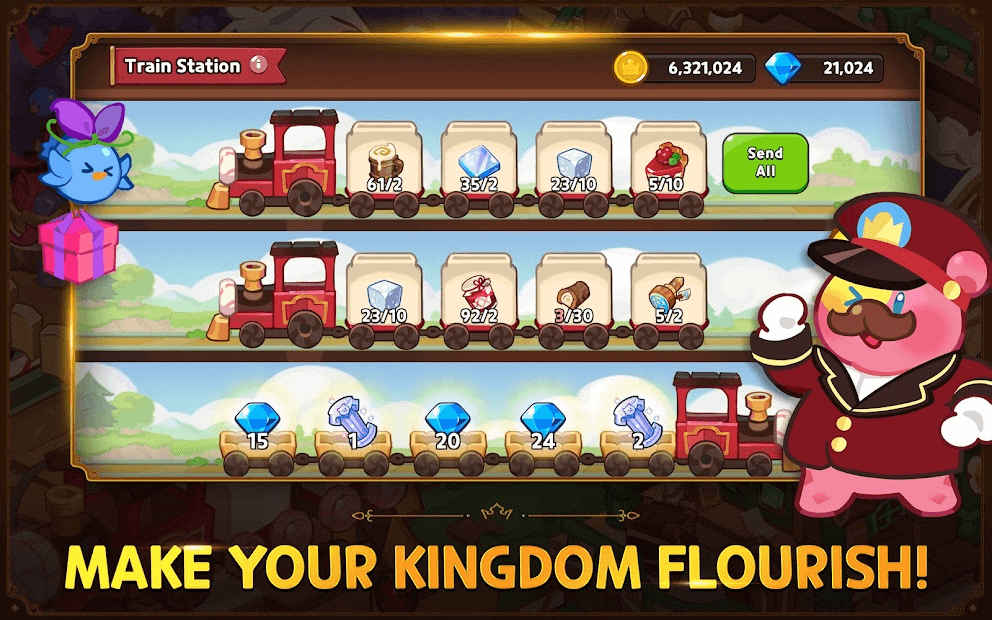 B. For the COOKIE
1. Experience
– As of now there is no way to get the exp loaded for cookies, so you have to be extremely wise to use it.
– Don't rush into the common, rare group because you will have a very good epic group.
– Only use exp for the few cookies you play often
2. Collect enough cookies
– Don't be afraid if you don't have some type of cookies. Slowly you will be able to collect all of them, just be patient.
– It's recommended to spin Gacha ×10 for the probability of epic higher than ×1 and accumulate mileage points to buy enough pieces for cookies.
– Only use mileage to buy cookie pieces or treasure tickets, don't spend on other things!
3. Flour/Powder
Only use for the cookies you constantly play.
4. Some outstanding cookies
a. Licorice: It's a good Cookie tank as it's both a magic and a tank (because it summons soldiers to take dmg), so it's indispensable. Lico can be used in many places like plowing the map, Dark Mode, or PVP.
b. Dark Choco: This is a great tank character because it is stable and also reduces the opponent's def. If focusing on tanks, players should choose Licorice and Dark Choco.
c. Vamp group, Raisin, Rye: If you don't have them, it's quite tiring when you fight against bosses, dragons, and PVP. If you have any of three or all, take well care! (Vamp > Raisin > Rye)
d. Vanilla: This is a strong healer. If you don't have it, use Herb.
e. Sea Fairy: When the cookie is buggy, use Sea Fairy as it's super powerful.
5. Toppings
Toppings are equipment used to increase the stats for Cookies.
– There are 2 ways to collect toppings: Run the map or hot air balloon. We recommend that you do it when the story is at level 8-29, as soon as finishing ep 8, change to run the hot air balloon.
– Only looking for epic toppings, especially ATK, DMG resist Cooldown (CD). When attaching them to cookies, use the whole set of 5 identical ones.
– When you pour money to increase the toppings, there will be a substate, but you still need to give priority to the above 3 indicators.
– Finally, if you don't use toppings, smash it to get a piece.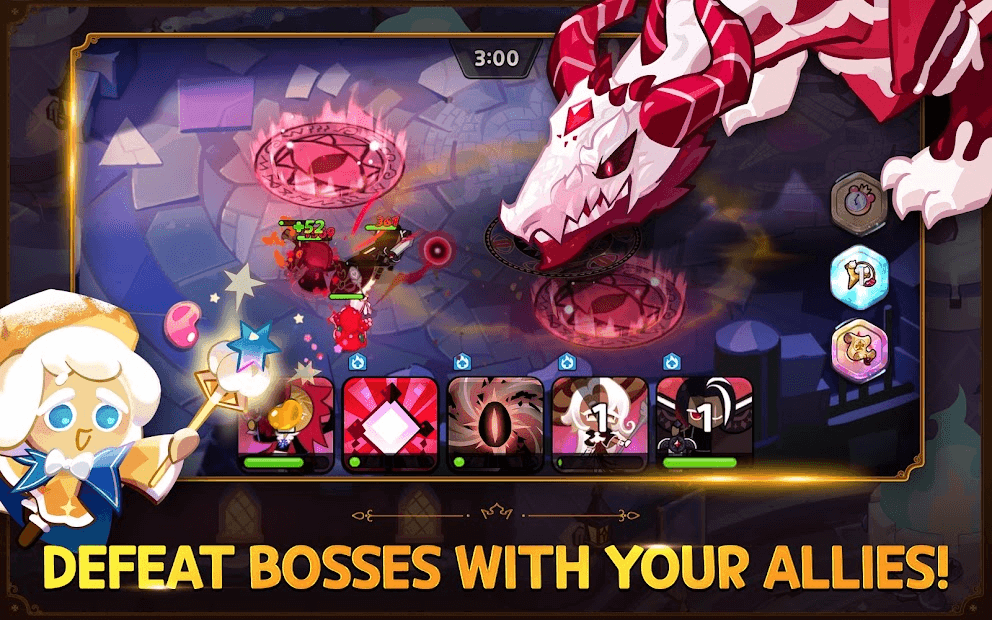 6. Events
– This is a source of many additional resources like gems, treasure tickets, arena tickets, toppings, etc., so don't miss it
– At the upper right corner is a picture of a speaker, click on it, there will be some events only noted in words.