Product Description
In the action game Zero City, the player becomes a commander in the last refuge of the new world. Your task is to gather survivors together. Then you will lead, train, and assign tasks to them. There is always work for everyone. You will build and upgrade your base to make it a sacred place! 
Zombie viruses are spreading rapidly, and it's time we have to act before it's too late. Brave warriors must always be alert and ready with weapons in their hands. Besides, items and supplies found in abandoned warehouses will be very useful in battles against the corpses and their owners.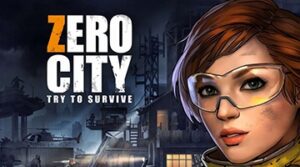 Take command of your army to destroy zombies to protect people, as well as save the world in the game! 
How to download the Zero City APK on the Apkafe
You need to click on the link above the article. The game is currently available on all operating systems. Then, you can choose the operating system that suits your usage needs, such as iOS, Android, or Microsoft. After that, you proceed to install and use it as usual. 
The outstanding features
Build

shelter

Zero City

Build and upgrade all rooms to create safe housing. Workers were present and ready to work. Order them to start building now. Turn your accommodation into a fortified defensive fortress by making a series of buildings and traps. Consider and decide which combination will be most effective in preventing zombies from attacking. 
Military development Zero City
In dark times, life is the most valuable thing. Survivors always have work to do. Teach your army new combat skills. Let them show you what they have learned by confronting the corpses. 
Weapons manufacturing Zero city
Create advanced weapons and equipment. Equip your warriors with guns and armor to confront the zombie waves of Zero City for Android. 
Arena PvP Zero city
We are not the only survivors, but only the strongest can survive at the end of the world. Build a powerful and invincible army to defeat enemies in the PvP arena or to attack other shelters. Show other players that you will be the leader in this survival battle. Lead your army through all the challenges of the new world. Survive using the entire arsenal available. Join brave warriors into hundreds of encounters with zombies and mutant fanatics. 
The role-playing game Zero City Android has a post-apocalyptic context with a gloomy atmosphere and high-quality HD graphics so that it will impress all gamers.