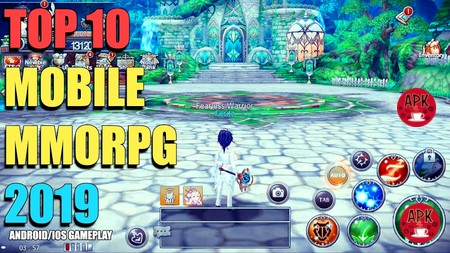 Currently, the mobile platform is not missing or unfamiliar with MMORPGs with top-notch and popular graphics. The number of investors, as well as the value of mobile games, has been improved compared to the previous day. If you are a fan of the online MMO game series, you are fighting hard. However, you don't have enough time to focus on the PC because of work, family, friends, etc. So, you have to go to MMO via the mobile to "be with you" and "relax" for reducing addiction? Following, Apkafe.com would like to introduce to you the top 10 best Android MMORPG no-pay-to-win games 2019.
1. Izanagi Online – Android MMORPG Game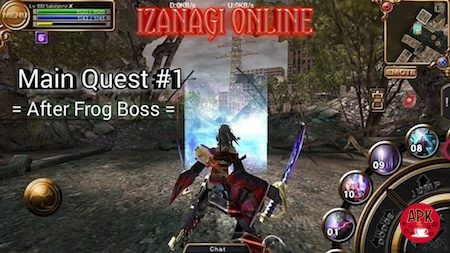 – Publisher: Asobimo.
– Country: Japan.
– Category: Online Game.
– Language: English.
– Background: Japan after the end of the world, interspersed with traditional features and cultural characteristics of Japan is preserved during this time.
– Story: After the apocalypse in Japan, the forces – the ancient monsters, began to march, and the Japanese army stood up against them. Besides, there is the hell life of the people who have to flee the demons behind the walls. They lived in poverty, worked, and had to pay taxes to the army and the "rich" playboys did not know the danger outside. And the third force, that is we, the Ninja, get hired to do anything as long as we have our own rights, "wake up" and be the minions for all those in need. Live and go find your own goal after the village of Ordon is submerged in a sea of fire by a traitor.
This is a world of chaos, pain, loss, and dirty about personality. Izanagi Online deserves the best Android MMORPG that combines the Diablo gameplay style. However, because it is the MMO Open World, we can rotate all 3D views, as we want, not the RPG perspective of Diablo. The reason we say "Diablo" is because its gameplay is very simple but it attracts players, hits monsters to level up, do quests, explore the world, and reveal secrets, etc.
2. Order and Chaos 2 – Android MMORPG Game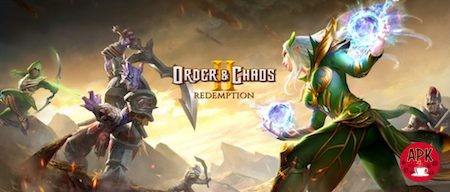 – Manufacturer: Gameloft.
– Country: France.
– Category: MMORPG Online-Multiplayer.
– Language: English.
– Background: Ancient Western European mythology.
– Story: After 600 years in "Order and Chaos 1" version opens, Flame Knight Association believes that if you destroy Pimal Heart with the hammer of the supreme deity Khalin, then all dark forces will disappear. Ignore both prophecy and advice from the Frost Clan tribe, Flame Knight's hero dealt a blow to Pimal Heart, and led to a cataclysm that swept away all of "Order and chaos 1." And six centuries later, when the world and the dark forces once again recover, it is also the time when our players are present.
If Izanagi has similar gameplay to Diablo, when touching "Order and chaos 2", maybe we will say it quite like World of Warcraft (W.O.W). Although in recent years, Gameloft seems to want to simplify this game by supporting directions to do the quest and revise the interface, however when hitting anything, the player must still manually press and press, there is no space for auto games.
3. AdventureQuest 3D – Android MMORPG Game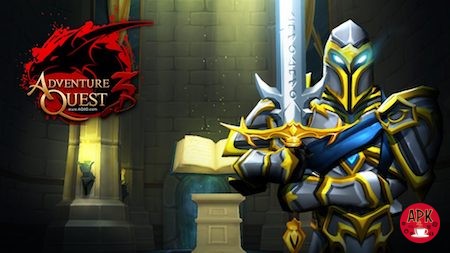 AdventureQuest 3D is a fast-growing MMORPG game. It has many of the same features as most regular MMORPGs in the best Android MMORPG. You can do a pile of quests, raid dungeons, create characters, and more. What makes AdventureQuest 3D really shines is that it has cross-platform support. You can play on a mobile phone or PC in the same world as all the other players. In addition, the game also supports your multi-class characters, chat, participation in other social activities, and more. Like most games, it also has bugs. However, they are not as serious as other games.
>>AdventureQuest 3D Download Here
4. Arcane Legends – Android MMORPG Game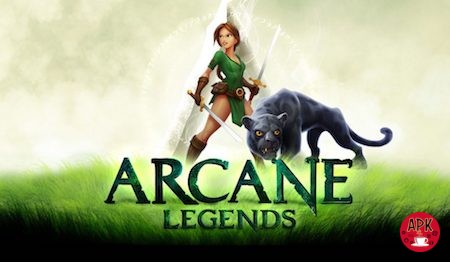 Arcane Legends has been around for quite a long time. Its life has made it one of the most successful MMORPGs online. This game itself is quite interesting. You will have three character-classes to choose from, each with a special set of skills and abilities. The game also has co-op as well as PvP mode, so you can play and interact with other players. It also includes many different types of PvP, so you can always be attracting. Developers have done a good job updating the game to keep the content fresh. The game has tons of things to do. Although it may have been repeated.
>>Arcane Legends Download Apkafe Free
5. Aurcus Online – Android MMORPG Game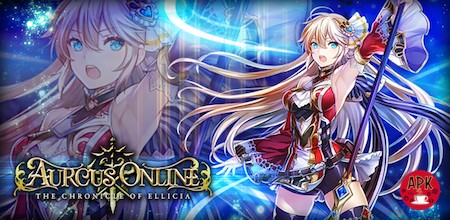 Aurcus Online didn't really stand out in most of its time in Google Play. It has all the usual elements as you can create your own character, do the quest, fight bosses with friends, and even participate in PvP battles. What really makes this game really shine is how to fight. You only need to use simple attacks, tap once, release skills, and end with a funny acrobatic blow. The animation of the game is partly satisfactory. Most criticism around the game comes from balance issues and "pay to win" systems in the PvP competition. The rest of it is pretty good.
>>Aurcus Online For Mobile Apk
6. Celtic Heroes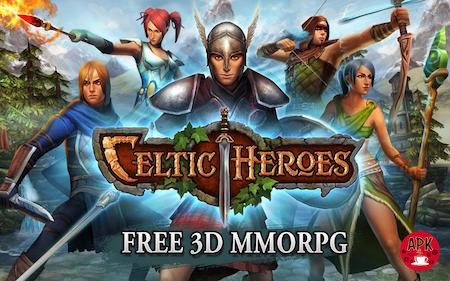 Celtic Heroes is a less popular MMORPG in the best Android MMORPG games. This game has a theme of Celtic. That brings a new difference in the fantasy genre that prevails. It has many familiar elements, including campaign, quest, guild (clan) modes, tons of skills to master, and in which PvP mode is very important. It also has five character-classes for players to choose from. You can also buy equipment for other players, a feature that you don't see often in the MMORPG genre. It also has some problems, but overall this is a relatively good game.
>>Celtic heroes Download For AnDroid
7. Crusaders of Light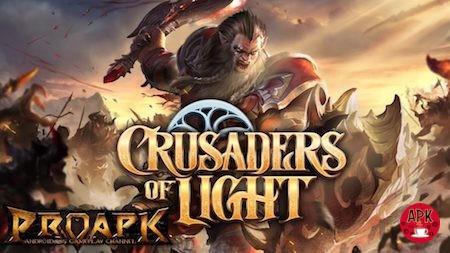 "Crusaders of Light" is one of the newer MMORPGs. It has the most basic MMORPG elements including a guild of up to 40 people, 300 hours of mission play, tons of equipment to collect, various social elements, and more. It also provides 1 vs. 1, 3 vs. 3, and 5 vs. 5 PvP features. This is a recent game. Therefore, we are not sure if it will be great or super successful like many previous games. We still think you should try it out. At least now it is.
>>Crusaders of light Download Apk Free Here
8. Dungeon Hunter 5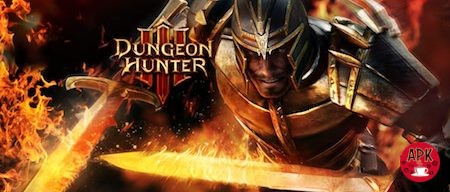 Dungeon Hunter 5 is one of the most successful MMORPG brands on smartphones. This game has the success of its predecessor, including a large campaign mode, multiple quests to do, co-op mode with up to three players, and only about 1,000 different items. In addition, there are daily and weekly events to make players feel new. The biggest failure of this game is the Freemium strategy. Gameloft really promotes in-app purchases. This is bad enough to provoke quite a lot of players. In short, this is really a very attractive game.
>>Dungeon Hunter 5 For Mobile Apk
9. HIT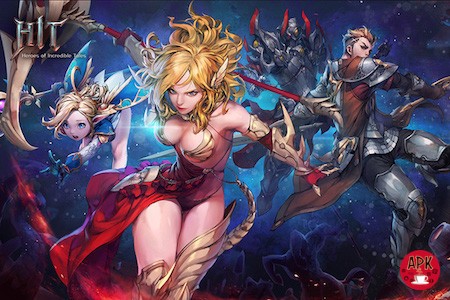 HIT is one of the best Android MMORPG games. Like most MMORPGs, you can create characters and participate in a giant world with other players. The system of this game is extremely equipped, simple control, raid, quest, and powerful graphics from Unreal Engine 4. Developers have done well in updating the game with a variety of new content. The recommended configuration parameters are quite reasonable. You will be able to play this game on most devices. Its biggest problem is a balance in PvP combat. It's not a bad point, but it's worth remembering if you want to play this game.
10. Grow Stone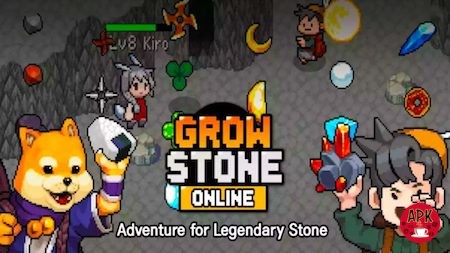 Grow Stone Online is a retro style MMORPG. We don't mean it acts like an old MMORPG. The graphics are 2D pixel art. It has most of the features of an MMORPG. That includes a vast world to explore, people to play with, many bad guys to kill, and much loot to collect. You can join clans and all of that jazz as well. It worked well in our testing. We didn't disconnect and the controls are easy enough to learn. It's a freemium game but you kind of expect that in this genre. It's good for sure.
SC : The best Free Online, Apk Appstore