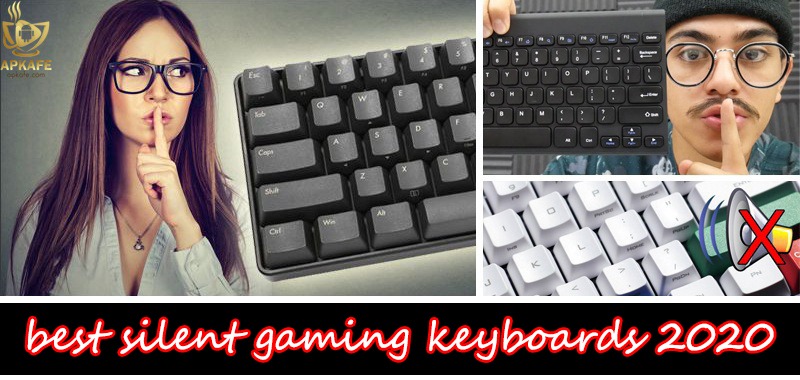 If you're just someone who occasionally uses the keyboard, it's no problem whether it's noisy. But, if you work on a computer in the office hours and hours, for example, a typist or a gaming professional, you need to concentrate. Or merely the environment you are working in does not allow too much noise when typing. Then, you must read this article to have some options for the best silent gaming keyboards for yourself.
Looking at a few specialized switch manufacturers, including Cherry, we can see that switches are usually divided into two main groups: Tacticle and Linear. In Tacticle, they split into two small categories: quiet and clicky.
Linear switch: These switches give a uniform typing response for extremely high typing accuracy, but they do not create the clicky feel like Tactile switches.
Tacticle quiet switch: They were designed to give the typical feeling of a mechanical keyboard without or very little noise. These quiet Tacticle switches work on the principle of spring resistance, which offers a minimal sound when you press the key, which is a lot smaller than the Tacticle clicky.
Tacticle clicky switch: Those switches create a spring resistance with the same strength as Tacticle quiet. However, the sound of a loud collision and the bounce is very clear when pressed down. This is the first traditional switch of mechanical keyboards, satisfying the Tactile demand and creating a sound for users, but sometimes it becomes annoying for others.
In this article, I will introduce a few lines of mechanical silent gaming keyboards using Tacticle switch or even Linear extremely suitable for mechanical keyboard players.
Don't miss: THE BEST COLLECTION OF NOISE-CANCELLING HEADPHONES FOR STUDYING
9 best silent gaming keyboards
1. CORSAIR Strafe RGB MK.2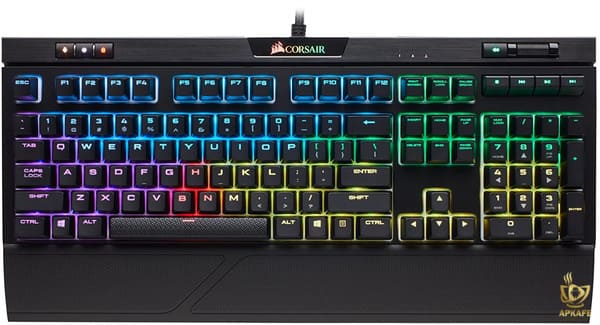 The first name on this list is a product from CORSAIR. CORSAIR Strafe RGB MK.2 is a combination of beautiful design and advanced features. It is equipped with Cherry MX Red Switch, so there is no bounce in the keystroke. These switches do not have a rebound force creating a bounce, making it easy to press continuously. The keys move more evenly and operate smoothly without loud noises. You can easily use this keyboard in quiet situations, and you'll find that it's quieter than other mechanical keyboards.
Additionally, the keyboard features a brilliant RGB backlighting, full-key anti-ghosting, and an onboard 8 MB configuration storage to carry your gaming profile. Dedicated volume and media controls allow you to adjust audio without interrupting your game while the USB Transmission port provides convenient access to plug in your device. Also, powerful CORSAIR iCUE software enables sophisticated macro programming to illuminate vivid colors and synchronize lighting throughout the system. STRAFE RGB MK.2 is fully loaded with detachable soft-touch armrests for optimal comfort.
Best bits
Excellent grip
Anti-ghosting feature
Ability to record and trigger macros
2. Corsair K95 RGB Platinum XT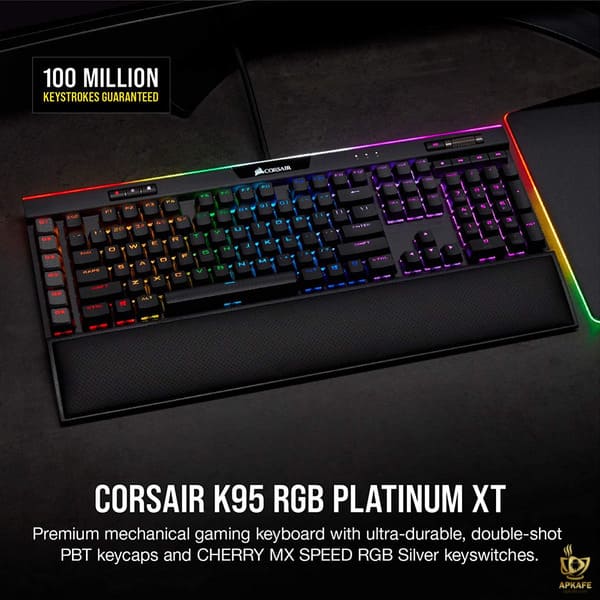 The Corsair K95 RGB PLATINUM XT is a fantastic silent gaming keyboard that's versatile enough for other uses as well. The dedicated software lets you program all keys, including the six macro keys, and customize RGB lighting. The keyboard has a solid build and a comfortable wrist rest that most people would be satisfied with. The double-shot PBT keys are durable and have a nice feel to them, and good tactile feedback helps reduce typos. The keyboard is available with Cherry MX Brown (tactile, silent) and Cherry MX Speed (linear) switches as well.
Best bits
Dedicated macro keys
Well-built design
Doubleshot PBT keycaps have a nice feel
3. Razer BlackWidow Elite Mechanical Gaming Keyboard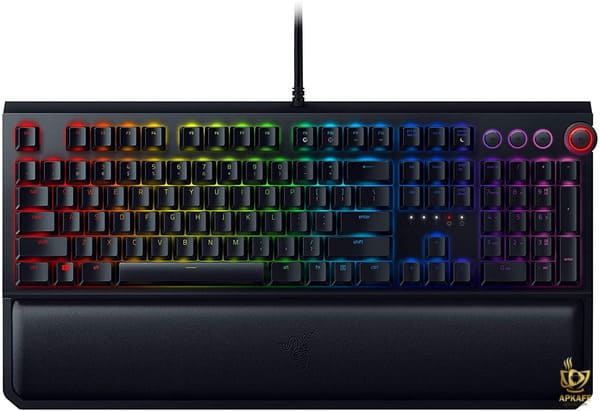 The unit that we reviewed features Razer's proprietary Orange switches, which are similar to Cherry MX Brown switches. Still, you also can get it with Green (tactile and clicky) or Yellow (linear and silent) switches.
The Orange switches provide excellent tactile feedback when typing, and they're nearly silent, making this keyboard suitable for quiet offices. Typing on this keyboard feels light and responsive, and well-padded wrist rest is included for optimal comfort. Overall, this Razer silent gaming keyboard's build quality is excellent. Also, the double-shot keycaps ensure that key legends won't fade over time. This keyboard comes with a ton of extra features that are quite convenient. It has dedicated media controls, a USB passthrough to charge mobile devices, or to connect another peripheral and full RGB backlighting for those who like to work in the dark. Each key's backlight can be customized individually, and you can reprogram or set macros to any key.
Best bits
Responsive mechanical keys
Personalized RGB lighting
Soft leatherette padding
Rubber dome switches
4. Logitech G815 RGB Mechanical Gaming Keyboard

The Logitech G815 is an amazing gaming keyboard. It features Logitech's GL Tactile switches, but it's also available in Logitech's GL Clicky or GL Linear switches. It's fully RGB-lit and offers a lot of customization inside its dedicated software. The low-profile keycaps might take some time to get used to, but on the upside, you get a dedicated macro keys column for added customization.
The Logitech G815 is a pretty good overall keyboard that's fairly versatile. While it's designed for gaming with speedy actuating keys, it can be a decent option for the office or programming. Its GL Tactile switch is quiet enough for an open office environment.
Best bits
Very well-built design
Dedicated macro keys column
Full RGB backlighting
5. SteelSeries Apex M750 RGB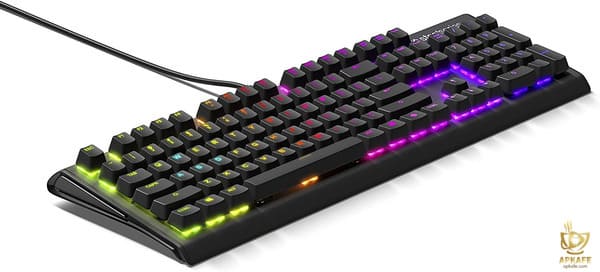 The SteelSeries Apex M750 is the ultimate esports keyboard, featuring ultra-fast QX2 mechanical switches and an extraordinarily durable and sleek aerospace aluminum core. Dynamic Prism RGB lighting delivers millions of customizable colors and lighting effects, while Prism Sync allows you to sync your personalized effects between all your Prism-enabled gear.
Plus, GameSense lighting delivers reactive illumination based on in-game events like low ammo, health, kills, money, and cooldown timers. SteelSeries Engine software gives you the power to completely customize your keys, macros, and profiles for advanced gameplay. Preset's lighting effects are stored on-board for on-the-go use.​
Best bits
Gorgeous design
Springy, responsive keys
Colorful illumination
Intuitive software
6. SteelSeries Apex 3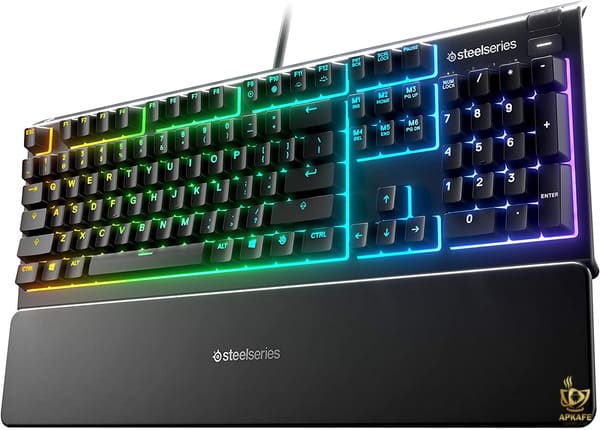 It's a decent overall silent gaming keyboard that uses rubber dome quiet switches that won't bother others around you.
This is the entry-level keyboard in the SteelSeries lineup. Although it has features found on other high-end keyboards, like media keys, RGB lighting, macro programmable keys, and a scroll wheel, the rubber dome switches don't offer the same typing experience as mechanical switches.
The typing quality is decent, and the keycaps are very stable, but it could be difficult to press, and it could get tiring at times due to the high actuation force. Luckily it comes with a nice wrist rest and has excellent overall ergonomics, and for a budget keyboard, the build quality is impressive, and it should last you a few years.
Best bits
Good build quality
Great software support
7. HyperX Alloy Elite RGB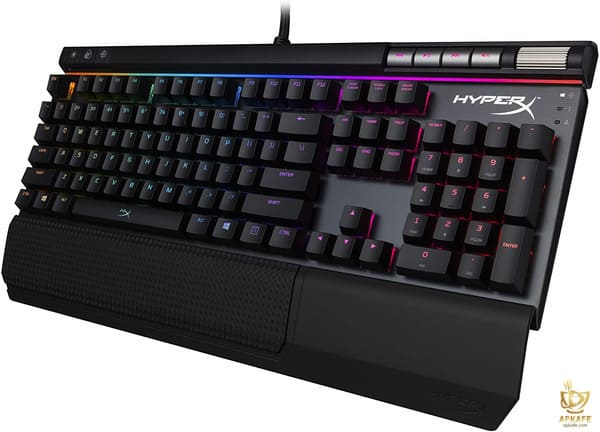 HyperX Alloy Elite RGB is made of a sturdy steel frame. This material not only is not only durable but also provides extreme gaming stability. Users can easily customize the keyboard or individual keys with RGB lighting that is simply set up with the HyperX NGenuity software. Besides, the anti-ghosting functions will keep all the keys active.
Alloy Elite RGB is engineered to meet all your needs with dedicated media buttons, USB 2.0, quick-access buttons, and a range of reliable CHERRY MX key switches. With two switch options, Cherry MX Brown and Cherry MX Red, HyperX Alloy Elite RGB is an ideal silent gaming keyboard for a good typing experience without noise.
Once you've customized your lighting and effects just the way you want them, save your set-up directly to the keyboard's onboard memory. Alloy Elite RGB also features a comfortable, detachable wrist rest, and optional HyperX textured, titanium-colored keycaps designed to help you find the most important keys faster when every millisecond matters.
Best bits
Dynamic lighting effects
Durable/responsive keys
Anti-ghosting function
Reasonable price
8. Redragon K502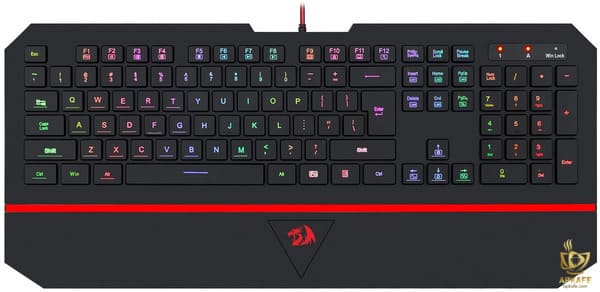 With adjustable breathing speed and illumination, Redragon silent gaming keyboard provides quiet behavior for a gamer. Its ergonomic design is the best outcome for all office workers, where it needs to be an utterly calm environment and best typing tool for all working employees. Besides, its keystroke effect is much accurate, which leads to fewer errors and typos.
If you are on a tight budget but still want a decent quality, efficient and sturdy keyboard, this is one of the ideal quiet gaming keyboards from Redragon that you should consider getting.
Best bits
Waterproof keyboard structure
Cheap
9. KLIM Chroma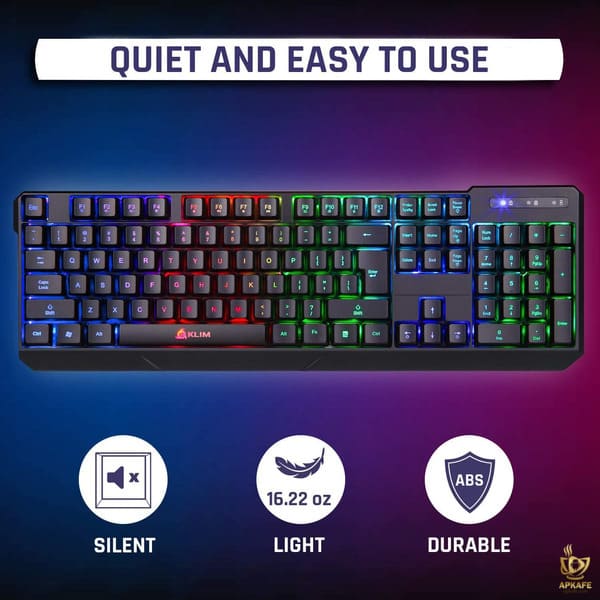 The KLIM Lightning is one of the best budget gaming keyboards you can buy. It has excellent build quality, great feeling semi-mechanical keys, subtle RGB lighting, and a lengthy warranty.
The KLIM Chroma was conceived as quiet as possible, especially compared to a noisy mechanical keyboard. Each keystroke produces a soft sound, providing an enjoyable typing experience. You will never bother anyone around you with loud typing ever again!
Best bits
Water resistant
Attractive RGB lighting
Near-silent keys with anti-ghosting
Read more:

5 BEST LOGITECH GAMING KEYBOARDS

11 BEST 60 PERCENT GAMING KEYBOARDS WORTH BUYING 2020