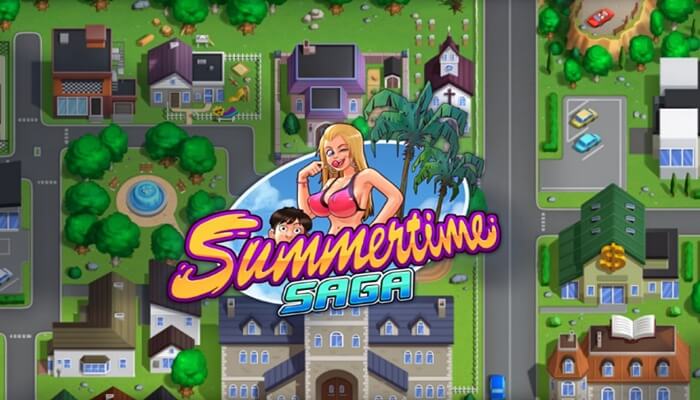 Summertime Saga is a high-quality adult dating simulation game, so it presents different plots, revolving around affection and romance. The story is set in a small suburban town, where a young man who has just entered university is surprised by the death of his father. Later, he discovered that his father was in debt to a group of suspected criminals. To solve the mystery, he has to investigate and have sex with some women, they will have attractive love stories and erotic adventures.
This game can be very enjoyable, not only for adults but also teenagers. In the article below, Apkafe will provide tips to complete all levels in Summertime Saga.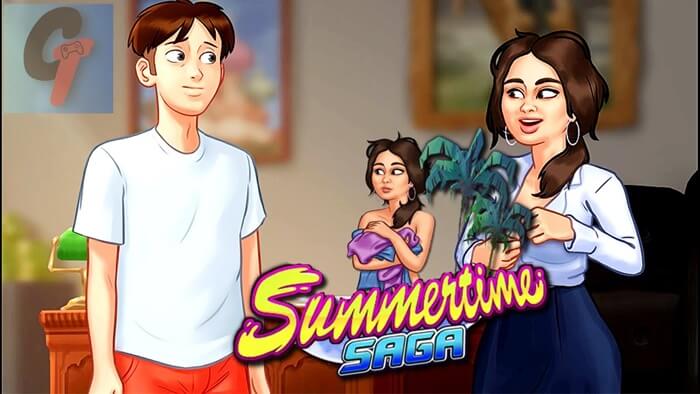 How to cheat to complete all levels in Summertime Saga
Basically, the levels in the game are made up of storylines based on different female characters. Therefore, you only need to pay attention to the following 5 female characters:
Debbie
She is the woman you are living with. To unlock this level, we will need 5 Prestige points and $150. When having these two requirements, we can unlock it at any time. Debbie is a character that we'll win by doing a bunch of quests around the house, like mowing the lawn or organizing the house.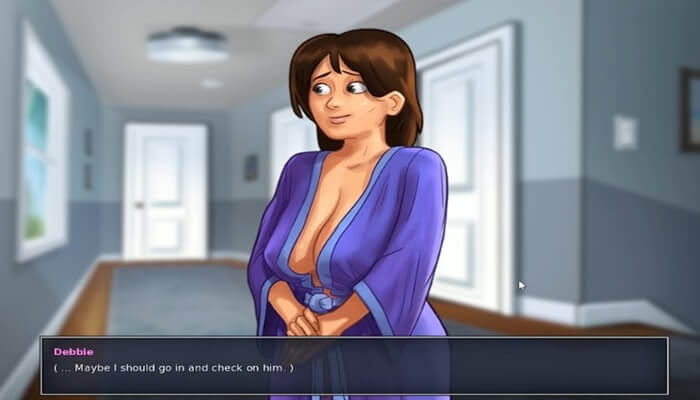 Here are exactly what you need to do:
Go into Debbie's room, put on her underwear, and play in bed.
The next day, go to the mall with her, give her a necklace, and join her in the dressing room for a kiss.
Come to the kitchen the next day and teach her how to kiss.
The next day, watch her in the shower.
Go to the car dealership the next day and pay the insurance.
The next day, touch Debbie's underwear, and when she asks, tell her you like it.
Get out of the house and protect Debbie the next day.
Watch Debbie talk to Diane in the kitchen.
Come to the pool the next day and bring a towel for Debbie.
Read the note on your computer the next day, go down to the basement with your clothes, and enjoy.
Jenny
This is one of the most important storylines in the game. Jenny is one of the other women you share a house with, who is someone we would have to be pleased with gifts, especially porn toys. You need 5 Intelligence and 7 Strength, get at least $2060, and a computer to participate in this level.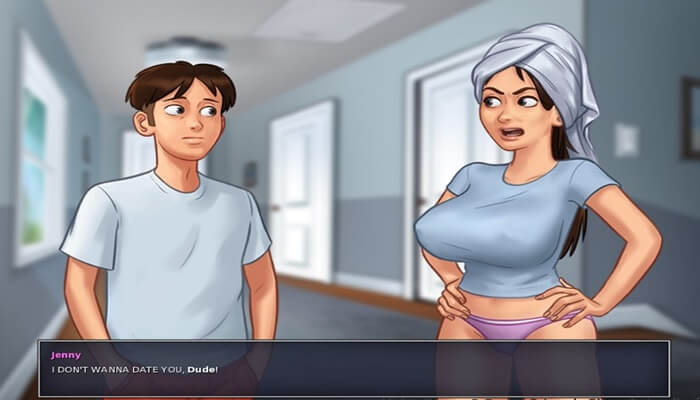 Here are exactly what you need to do:
Wait two days and find Jenny in the living room.
Jenny will wake you up the next morning.
Find her the morning after breakfast.
The next day, use the telescope.
Head to the salon the next day, where you'll find her. Look for an old uniform in the attic. Avoid getting her pregnant.
On Saturday, go to the movies with Jenny.
The next day, you'll see Jenny in the dining room and enjoy some bathroom scenes.
Three days later, he talked to her in the hallway.
The next day, re-read her diary and buy her the things she needs at the mall (a necklace).
>> How to download Summertime Saga
Diane
Another important character in Summertime Saga that is indispensable is Diane – your neighbor. She is a character that we will have to help at certain times with some quests, which is what will lead to a series of interesting scenes.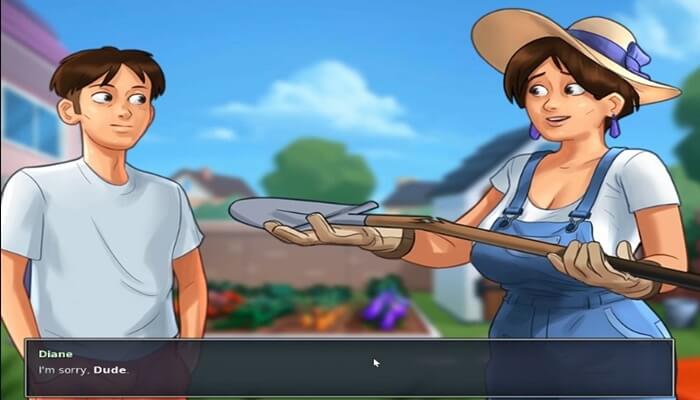 To unlock this level, you have to meet these requirements: $400, have 2 Power points, and a subscription to the Library. As mentioned, we will have to perform tasks for Diane, such as gardening as well as delivering goods. In addition, at a certain point, you and her will also live together.
Mia and Helen
Mia and Helen are two characters that we can't separate in this case, as their stories go hand in hand with the game. Mia is your close friend in the game. Meanwhile, Helen is Mia's mother.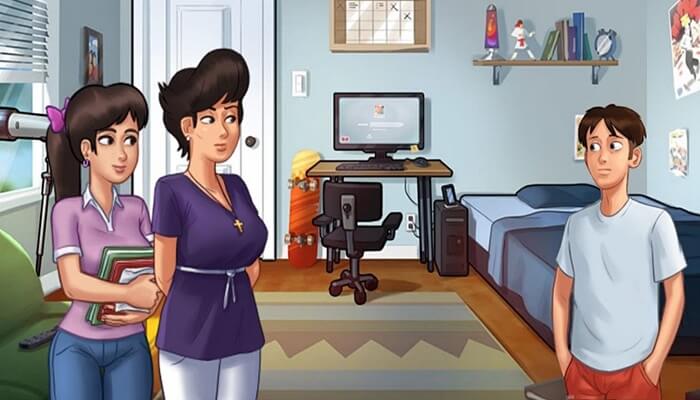 Mia is someone you will conquer by getting to know her, but then we will also have this romance with her mother. This will definitely have consequences for your relationship with Mia, whom you will then have to help reunite with your family again. To unlock this level, you must have at least $1670, 2 Strength points, 7 Prestige points, and Library Registration.
You will first have to chase Mia, before meeting her family and having that relationship with her mother, Helen. In addition, the sister, Angelica, will also play a lead role in the story.
Ms. Johnson & June
Miss Johnson is Erik's lady, with whom we will have a romance while practicing yoga, and June will be Erik's girlfriend. To open this level, we need 5 Charisma points, a computer, a Library subscription, and $1350. One of the keys to this route is that we can make different kinds of decisions, something that will have an effect on how it progresses.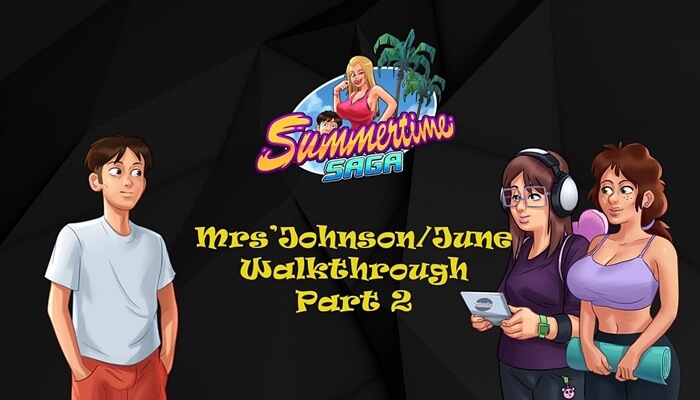 Hopefully, the information above is helpful for you to complete all levels in Summertime Saga. Wish you have a good time playing the game!