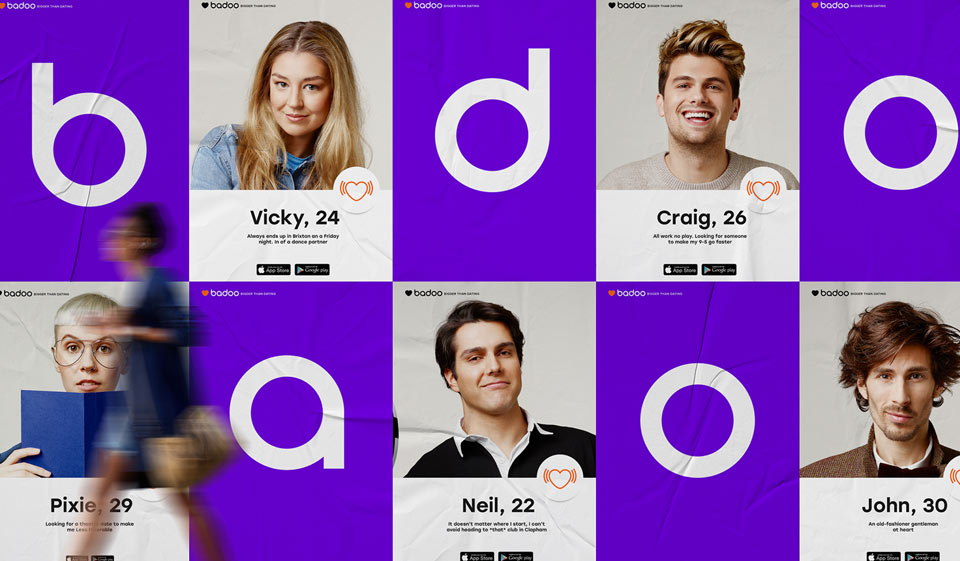 The development of technology makes the distance between people around the world close a lot. And dating apps are indispensable to help us get to know, chat with new friends, and even date much easier. Badoo is one of the top free dating apps that are being sought today.
About Badoo
Badoo is a global social networking site launched in 2006 by the developer Badoo Software Ltd. The app has been warmly welcomed in more than 19 countries with over 130 million members, making it the 4th largest social network in the world. Badoo is specially designed for the need of finding new friends nearby or far away cities to start a friendship or dating relationship.
Much like Tinder, with Badoo, you can not only choose anonymous people from a virtual directory but also discover new contacts in a non-anonymous way, like inviting private chats or seeing profiles. In particular, you can choose groups of people who share your interests or match your criteria. The site is free to join, yet there is still a premium membership for better experiences.
Best Features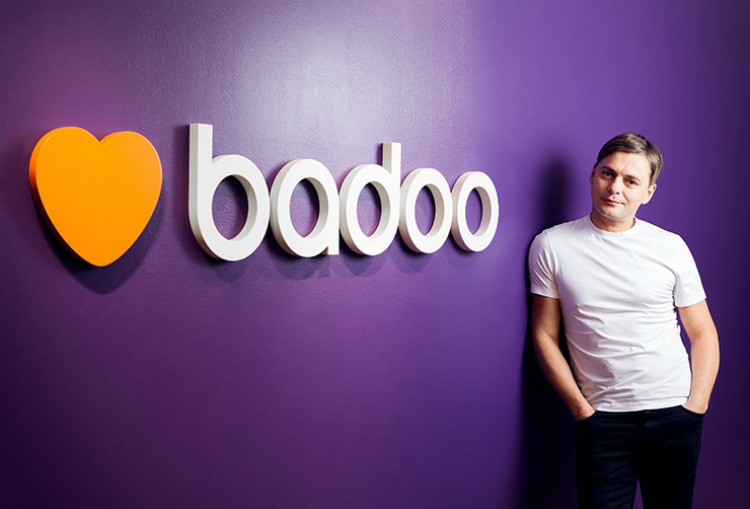 Verified Profile: Users will be asked to link to the correct Facebook or Email with a clear profile picture to ensure that the owner is using the account on Badoo.
People Nearby: While the Search button lets you contact people in another part of the world, People Nearby is a Badoo search function that shows you potential matches nearby.
Encounters: This is basically a game in which the user clicks yes or no on another person's photo. If two users click yes on each other's photos, they will be matched and notified by Badoo.
Matching Your Criteria: You can filter profiles by criteria of your choice such as age, gender, or language, or even find people with similar interests so that it is easier to understand each other when meeting.
Video Chat: This function will help you match with each other to make live video calls.
Inappropriate Photos Detection: The system automatically detects pornographic and inappropriate photos sent through Badoo and warns users before they open them.
Send Songs: If you want to send your crush your favorite song, use the feature Send Songs via Apple Music.
What to expect in Badoo Premium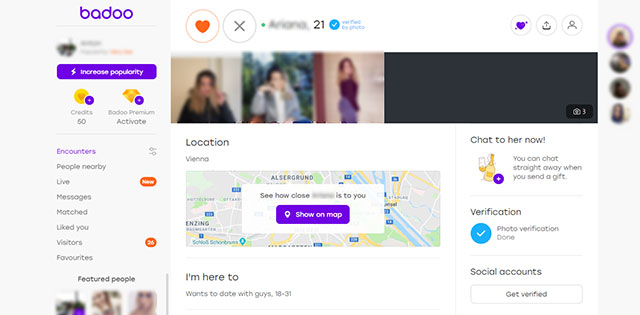 If Badoo free version does not meet your chatting and dating needs, try Badoo Premium. You will be able to access numerous exciting features to get the most out of the app:
Likes: You'll receive email and browser notifications when someone likes your profile or adds you to their favorites list.
Rise Up: Your profile will be more visible on the site for a limited time.
Profile Score: This feature allows other members to rate your image. The higher your score, the more your profile is shown.
Visits: Check which members visited your profile in Visits.
Games: In addition to Encounters, there are several other games, such as Appearance – to search for the users' appearance with similar features, and Gifts – to buy gifts for other users as well as send emojis to get their attention.
How to download Badoo for free 2022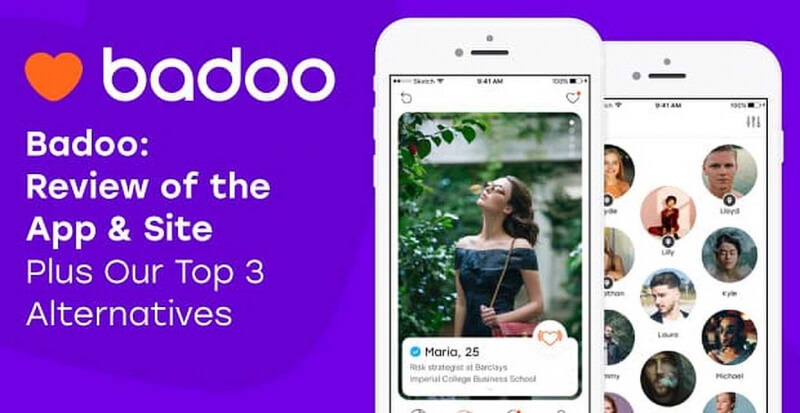 Users can directly download Badoo for iOS and Android devices for free. Then, continue to register an account using Facebook authentication or an email address.
Step 1: Access the link of Badoo on GooglePlay Store or AppStore at the top right corner.
Step 2: Click Download.
Step 3: Accept the permission page and wait for the app to automatically install on your phone.
Step 4: When the installation is complete, open and enjoy the app!
Frequently Asked Questions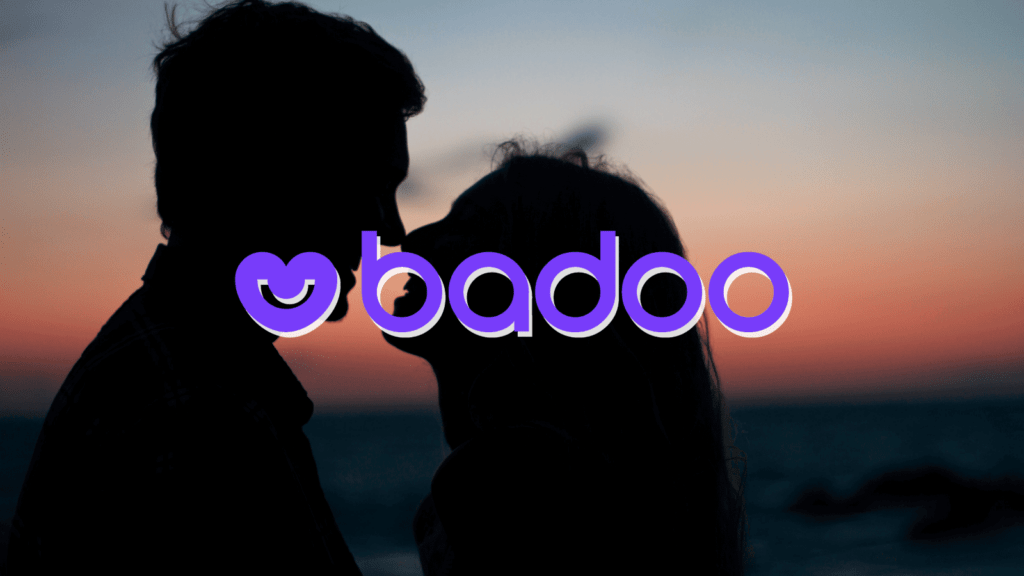 What makes Badoo different from Tinder?
It can be said that Badoo profiles are fewer scams than on Tinder as Badoo users have to verify their profiles with a photo, phone number, or official social media account.
How can I block someone on Badoo?
Step 1: Open Badoo on your device.
Step 2: Go to the conversation window with the cloud icon located at the bottom right of your screen.
Step 3: Enter the conversation with the person you want to block.
Step 4: Click on their photo to access their profile. Then, swipe all the way to the bottom of the screen.
Step 5: Select Block or Report. Now, on this screen, you can choose why you're reporting them (e.g. spam, scam, rude, etc.)
Is Badoo safe to use?
Badoo is a legitimate website launched by Badoo Software Ltd. The app has reached over 190 million users worldwide and there are many ways to verify identity.