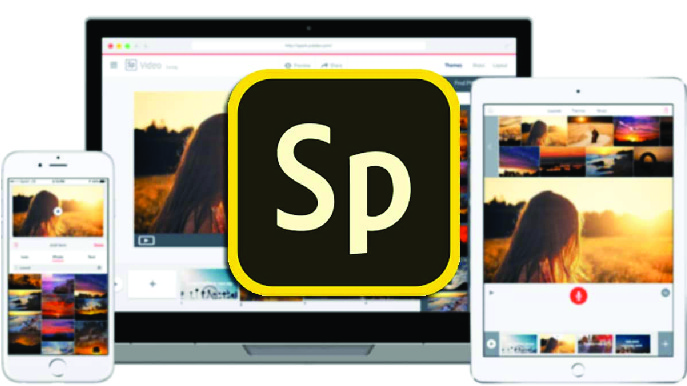 The advent of online design tools has made editing and designing for both individuals and businesses more effortless than ever. What's even better is that those tools are already available on mobile platforms, making everything a piece of cake. Among the most popular names today, two apps stand out, Canva and Adobe Spark. So, What are their advantages and disadvantages? Which is more suitable for you? Read on to find out!
What is Canva?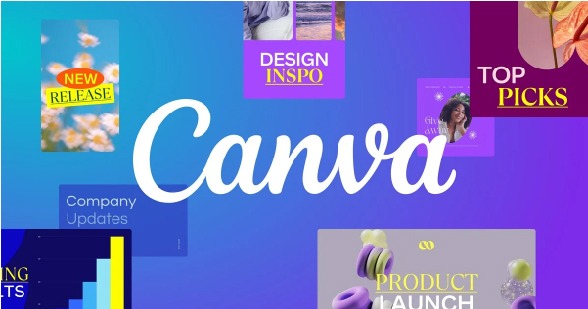 Canva is an online platform that supports media design tasks, helping users create logo designs and business cards, build CVs, make presentations, event posters, etc.
What is Adobe Spark?
Adobe Spark is also an online graphic design application that allows users to create designs with images and videos taken from anywhere easily.
The differences between Canva and Adobe Spark
Best bits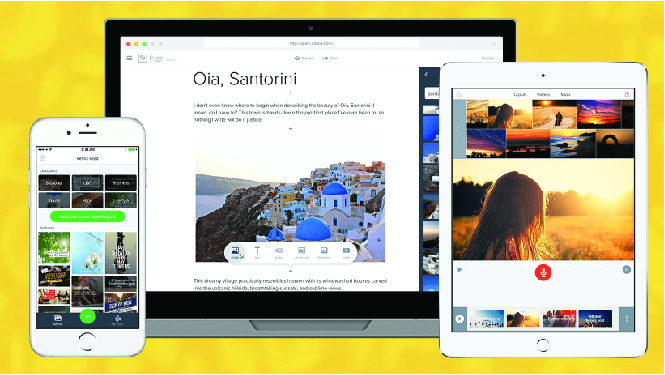 Canva has many unique features. The first is the ability to edit online and save automatically. You can share a design with your team, and everyone will work on it together in Canva. In addition, being able to adjust the background color of the image is also a unique advantage of the app.
With Adobe Spark, the highlight of this application is the ability to build video stories. Users will use the images in the library and combine sound and motion tools to create different videos.
Availability on multiple platforms
Both of these applications almost meet the need for flexibility across platforms. Both Canva and Adobe Spark work on the web, accessible by most operating systems such as macOS or Windows. In addition, manufacturers have also brought these two applications to Android and iOS. From there, users comfortably design anytime, anywhere, and on any device.
User interface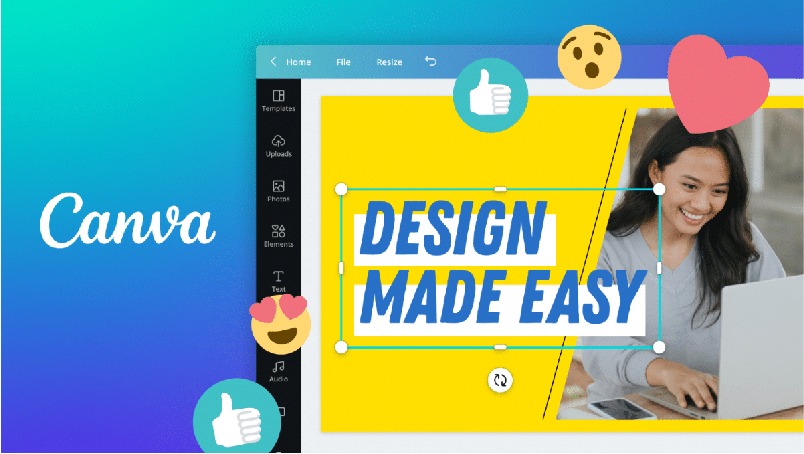 Canva has a simple interface that optimizes the layout for users' convenience in alignment. The toolbars and menu templates are all neatly arranged to the left to not cover the design screen.
Although Canva is already quite simple, Adobe is designed to be much simpler. With white as the main background, creatives will be inspired to get inspired and immediately start designing.
Templates
Canva's template store is quite huge with more than 250,000 templates in many different designs, and all are guaranteed to be perfect in quality. Each template is meticulously designed, and users can immediately choose a product with a few basic editing operations.
Adobe Spark seems to be the underdog when it comes to only providing about 43,000 templates and in general, the template is still quite simple.
Editing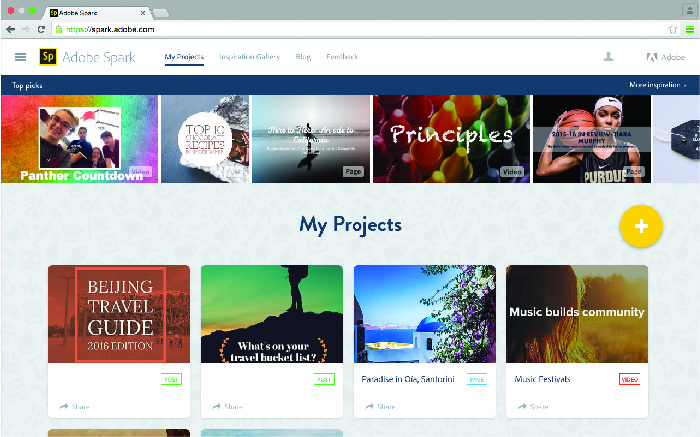 Editing on Canva is relatively easy. You just need to select the objects to align, or drag and drop the objects you want to add to your design. The design tools can also suggest appropriate editing templates.
Unlike Canva, Adobe Spark brings the editing toolbar to the right corner of the screen. Although it also supports drag and drop of custom objects like Canva, there is still a certain delay.
Social networking sites connection
Canva is like a large community where you can not only create but also share your products on social networks, like Facebook, Instagram, Twitter, etc. The app also supports users to save photos to Google Drive, DropBox, etc.
Adobe Spark does not support many sharing features. This app is only hosted on basic platforms and is quite limited in sharing on major social networking sites.
Sharing and teamwork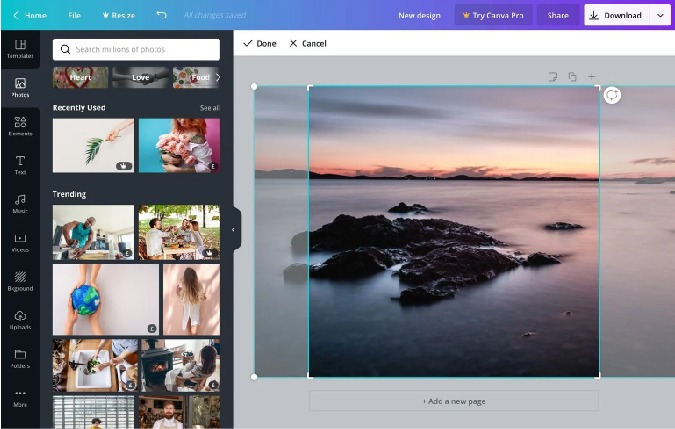 Canva allows you to share your work with your team working on group projects. Users will directly co-create and edit their designs at the same time without difficulty. This helps the collaboration process go smoothly, saving time and effort.
Adobe Spark also features this sharing but not directly on the application. Instead, users will download the design and edit it on the archive folder.
Mobile app experience
Canva has been very successful in bringing its apps to mobile phones and tablets. The user experience will not be too different from the regular web version. You can use filters to edit photos or use the live camera to view slideshow designs.
Adobe Spark in the mobile version is a bit different from the web version. Specifically, Adobe Spark is divided into 3 separate applications with different specific functions, including:
Adobe Spark Video: professional video editing
Adobe Spark Post: online graphic design
Adobe Spark Page: design the interface of websites (only works on iOS)
Pricing and plans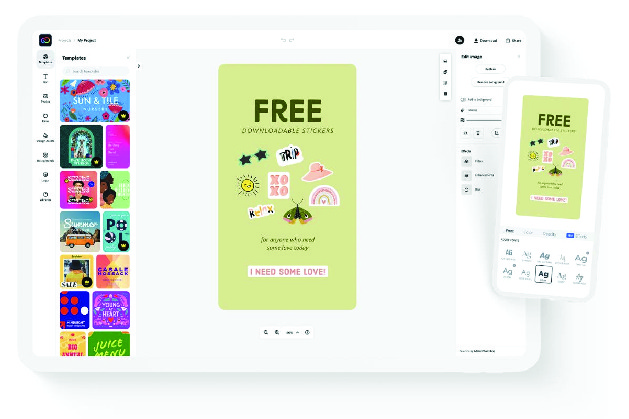 Canva offers three different plans which are suitable for specific users' need:
Free plan: absolutely free with limited features
Pro plan: 56 USD/year
Team plan: 85 USD/year/group of 5
Adobe Spark also has three different plans, which are:
Free plan: absolutely free with core features
Premium plan: 99.99 USD/year
Team plan: 239.88 USD/year
Conclusion
Overall, both Canva and Adobe Spark apps are great design tools with their own pros and cons. If you want to design banners, cards, presentations quickly with a variety of templates, Canva will be the optimal choice for you, on the other hand, you are working with video editing, go for Adobe Spark.