Everything you need to know about Note 8 screen and how to take screenshots on the devices will be presented in this article. Check it out now!
1. How to take screenshots on Note 8 screen with Bixby
Like other virtual assistants like Siri, Google Assistant, etc., Bixby will support users a lot in the process of using the device. And with Note 8, we just need to activate Bixby Voice and use the "Take a screenshot" command to take a screenshot. The device screen will be captured right away.
We press and hold the Bixby button on the left edge of the Note 8 device before executing a screenshot command.
2. How to take screenshots on Note 8 with gestures 
To take screenshots on Galaxy Note 8 by using gestures, users must proceed with the system settings first.
You go to Settings (Settings)> Advanced Features (Advanced Features)> Palm Swipe to Capture (Swipe the palm to capture). Users then enable this feature by switching to On.

Setting gestures on Note 8
So to take a screenshot on Galaxy Note 8, users need to swipe from right to left edge of the screen. 
Take screenshots with gestures.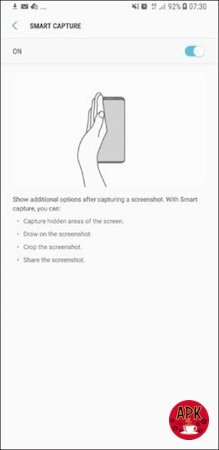 3. How to take screenshots with the Power button and volume key
This method is extremely familiar to users. With most Android smartphones, to take screenshots, users only need to press the Power button and Volume down key.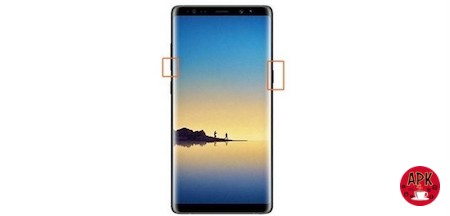 After pressing the above key combination, the device will vibrate and ring a bell to notify successful screen capture. To review photos, swipe down from the notification bar and click Screenshot Captured.
Take a picture with the key combination.
4. How to take screenshots on Note 8 by the S Pen
On the Note 8, the S Pen is more interactive with users. We can take notes on the screen or take screenshots with Screen Write feature on the pen list.
We need to launch Air Command and click Screen Write. Then select the area you want to take a picture or add a note to the image as you wish.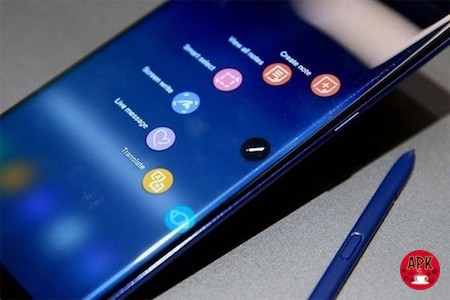 Finally, when you finish, click Crop, Share, or Save to complete the screenshot editing process.
Take a screenshot by the S Pen.
5. How to take screenshots on Note 8 by scroll capture feature
To take a full-screen picture of a document page or a newspaper page, you can use the scrolling feature. We need to press the Power button + volume down key at the same time. After the preview screenshot appears, click Scroll Capture to enable the automatic scrolling feature to take a large picture.
To capture the desired content, you touch the screen to stop the scrolling feature.
Take pictures by scroll capture feature.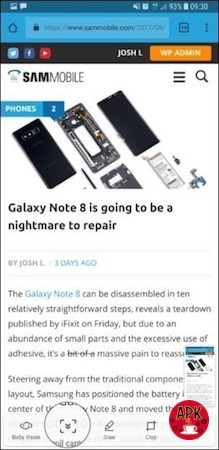 How much note 8 screen replacement cost?
>> There is no official price listed for a Galaxy Note 8 screen repair cost. However, customers across the countries who have approached Samsung customer service for a replacement have been quoted around $300.
What is the best Note 8 screen protector?
>> There are a few best screen protector for Note8 that you can refer to, such as Whitestone Dome Glass and Spigen NeoFlex 2-Pack.
How to use screen mirroring feature on Note 8?
Screen Mirroring is a smart connectivity feature that allows you to display your photos, music, and videos directly from a compatible mobile device to the Samsung TV completely wirelessly.
This feature is available on Samsung Galaxy devices called Allshare Cast (on Galaxy S3, Note2, Note 8 tablets, Note 10.1 …) and Screen Mirroring (on Samsung Galaxy S4 or newer devices).
Here is how you connect your Note 8 with TV:
Press the Source key on the TV remote control – select Screen Mirroring or go to Menu> Network> AllShare Settings> Screen Mirroring.
2 On the Galaxy device, drag down the notification bar from the top and select Allshare Cast (or Screen Mirroring) or go to Menu> Settings> Network and wireless connection> AllshareCast. The device will automatically search for the TV and display the TV name found, select the TV name to connect.
Conclusion
The above are five ways on how to take screenshots on Galaxy Note 8. Depending on the needs as well as cases, you can choose a suitable way. For example, when shooting the documents of journalism, it is advisable to use a scrolling capture.