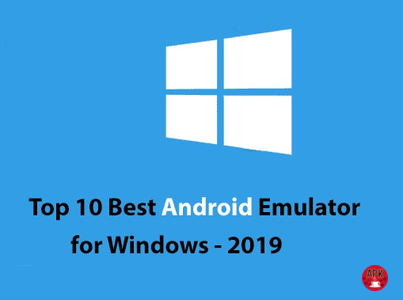 Android Emulator
>>Top 10 app best antivirus android
10 best android emulators for windows
Games and applications on Android phones are day by day invested in both graphics and features to provide a great experience for users. But playing games for a long time on the phone sometimes causes disadvantages such as eye strain, overheating, and faster screen damage. Fortunately, you can use Android emulators to play games on Windows computers to experience on the bigger screen with using the mouse and the keyboard as well as not to cause harm to your beloved phone. In this article, Apkafe.com will suggest you a list of 10 best and most popular Android emulators available today.
Play Android games on PC using TGB or GameLoop
If you are a fan of PUBG Mobile or PUBG Mobile VNG, you are no stranger to Tencent Gaming Buddy (or TGB), which has recently been renamed GameLoop. This emulator was initially created to play Tencent mobile games on computers. Later, TGB was developed to be an Android emulator on computers. The strongest point of TGB is that it is very light (only 10MB) so that it runs very smoothly. It also does not consume computer resources as well as not requires high configuration like BlueStacks. The hottest mobile games available today can be installed on this emulator, like PUBG, Free Fire, etc. And because it only focuses on game emulation, TGB does a pretty good job.
Many popular games are built-in, you just need to install within the interface of TGB. The games available TGB also optimize buttons for gamers, so you do not need to install anything else. You can play immediately with the keyboard and mouse. TGB is entirely free to download and use, with no ads.
The downside of TGB is that it doesn't integrate the Google Play Store. However, you can install .apk files into TGB very easily. The default interface of TGB is English, but changing the TGB language to other languages is also simple.
BlueStacks Android emulator
Price: Free
Bluestacks is the most famous Android emulator, not only on Windows but also on Mac. Bluestacks is a fast, stable emulator, which works well and has a lot of modern features overall. It always supports the latest Android versions, pre-installs Google Play Store, and additional games from external sources. It also combines keyboard mapping, many pre-installed hot games, screen vibration, location. Besides, Bluestack also supports streaming games directly to Facebook, full-screen view, regular updates to improve performance, and fix bugs.
Especially in version Bluestack 4, released in 2018, users can play many games at the same time (or play the same game many times) thanks to the ability to open multiple sessions of Bluestacks.
Because of its high-end features, Bluestacks is the heaviest Android emulator on the list. If you are using a high configuration computer that supports good graphics, BlueStacks will be the right choice. In addition to requiring high computer configuration, BlueStacks also forces users to view ads to be able to download games and often encounters small errors.
Configuration requirements for Bluestacks 4:
• Operating system: Windows 7 or higher, preferably Windows 10
• Processor: Intel or AMD, preferably multi-threaded chips with Single Thread PassMark score > 1000 and virtualization is enabled in BIOS.
• RAM: At least 2GB of RAM. I think this place needs a little explanation; this 2GB RAM is only used to run Bluestacks, not the total amount of RAM you have on your computer. So, at least your computer must have 4GB of RAM to install the software. But it is recommended to have 8GB of RAM or more to be smooth.
• Hard drive: 4GB free space. SSD is better.
• Graphics Card: Card of any company, but PassMark minimum score of 750.
• Having admin rights to install and run the software, broadband Internet.
The remaining emulators on the list only need to have 4GB of RAM or more to use. If you want to be smoother, then 6GB of RAM is sufficient.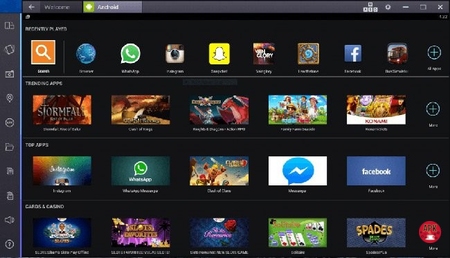 NoxPlayer or Nox App Player
Price: Free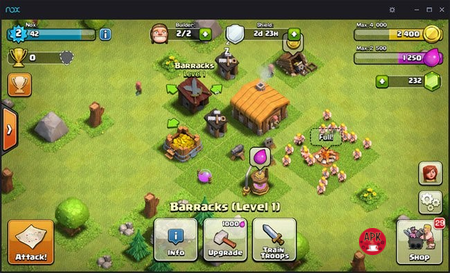 The next emulator is Nox. Like BlueStacks, Nox is one of the Android emulators for computers designed for gamers. It has special utilities and extras that help players control the game using the keyboard and mouse. Specifically, Nox allows simulation of gestures when playing games on the phone with a keyboard and mouse. For example, assign a swipe right to the right arrow key. The toolbar on the right allows you to take screenshots, record videos while playing games, link to macro records, and install APK files from external sources. This brings more fun to Android game lovers. Nox does its job quite well and also is completely free.
Because Nox offers a stock Android version, besides being able to play games, this Android emulator is also a useful tool to test applications programmed for Android. You can also install other apps from the Google Play Store.
MEmu
Price: Free
MEmu is a rising name in the list of the best Android emulators, which prides itself on full compatibility with Intel and AMD processors. Its latest version updates Android to 5.0 Lollipop, helping you experience the most recent applications. MEmu comes with root capabilities as well as a complete toolbar with tons of functions and features. It is not bulky, and it has high performance, so it will be a suitable replacement for other Android emulators, especially when you want to play games and work at the same time.
LDPlayer
LDPlayer is a recently famous Android emulator, loved by many people. LDPlayer is quite fast, stable, and has built-in Google Play Store, so it is easy for downloading and installing your favorite Android games and applications on your computer. Similar to Nox or Memu, LDPlayer can open multiple windows to run various apps and games at the same time. Besides, it supports in-game controls easily, compatible with many systems and especially it is very smooth for gameplay.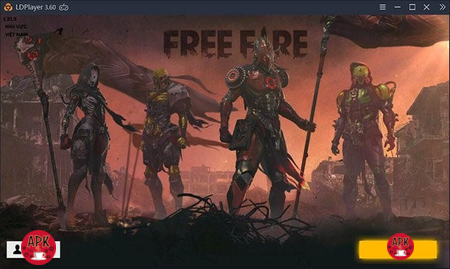 KoPlayer
Price: Free
KoPlayer, like AMIDuOS, is a new Android emulator on Windows. KoPlayer targets users who are gamers. It has two modes: Speed and Compatibility. If you want to maximize your gaming performance, you should choose Speed mode. But if the device's capacity is not enough, you can select the remaining mode for a smoother experience.
You can use the keyboard mapping feature to simulate a gaming controller using a computer keyboard. Players can also record the game and upload it to any video sharing website. The installation process is simple, stable, and easy to use. In addition to the ability to play games, KoPlayer can also run many other Android applications and many types of APK files available on the application's website to download.
The downside of KoPlayer is that some users still notice that the app crashes and sometimes displays lags in Compatibility mode.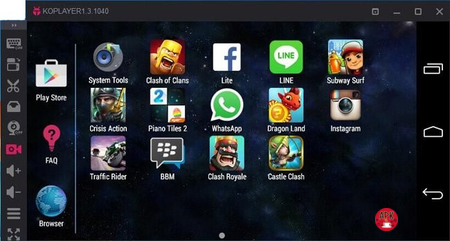 AMIDuOS Android emulator
Price: Free trial, 10 USD, 15 USD
AMIDuOS is a relatively new Android emulator on Windows. It comes in two versions, Lollipop ($ 10) and Jelly Bean ($ 15). You only pay once to use the product forever. AMIDuOS runs very well and smoothly to work as well as play games. Most users can use AMIDuOS to do everything as they would on the phone. While AMIDuOS cannot meet the requirements of mobile app developers, it can satisfy mainstream Android users thanks to its excellent features and performance.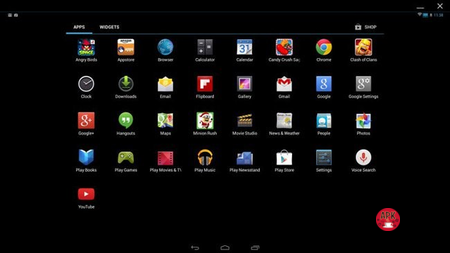 Genymotion
Price: Free with paid options
This emulator is aimed at developers, who want to test their apps and games on a range of Android devices without actually owning those phones. The emulator can be configured for multiple devices with different versions of Android to suit testing needs. For example, running Nexus One with Android 4.2 or Nexus 6 with Android 6.0. The choice is up to you. It can easily switch between devices. Because the installation and configuration process is a bit more complicated than other emulators, Genymotion is not suitable for ordinary users, using the emulator just to check email and play games. But Genymotion provides a free service for personal use, so if you want you can still experience this software.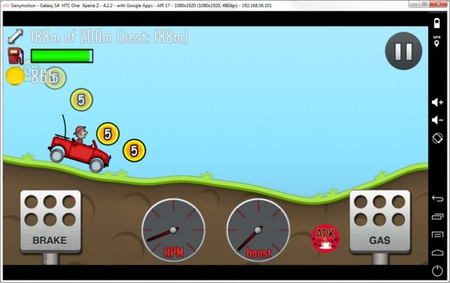 Jar of Beans
Price: Free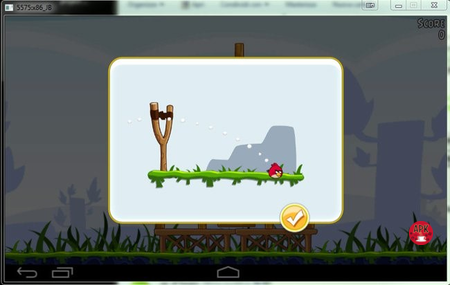 This Android emulator is highly rated for its ability to handle good games and applications with great graphics. Jar of Beans requires no installation, supports hardware acceleration manager to improve overall performance. Although the initial interface of Jar of Beans may make new users feel it is a bit complicated, just one click to switch to the familiar Android interface. And then playing the game or checking the notifications are not matters anymore
Remix OS Player
Price: Free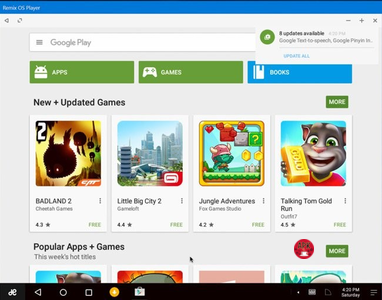 Remix OS Player, also known as Remix OS, developed by Jide, is also a new member of Android emulator on computers. It is the only emulator app running Android Marshmallow instead of Android Lollipop or Kit Kat. The installation process is quite simple and easy to use. It's mainly designed for gaming, so you'll have a range of options to customize your game experience. Unfortunately, for now, Remix OS only supports AMD processors.