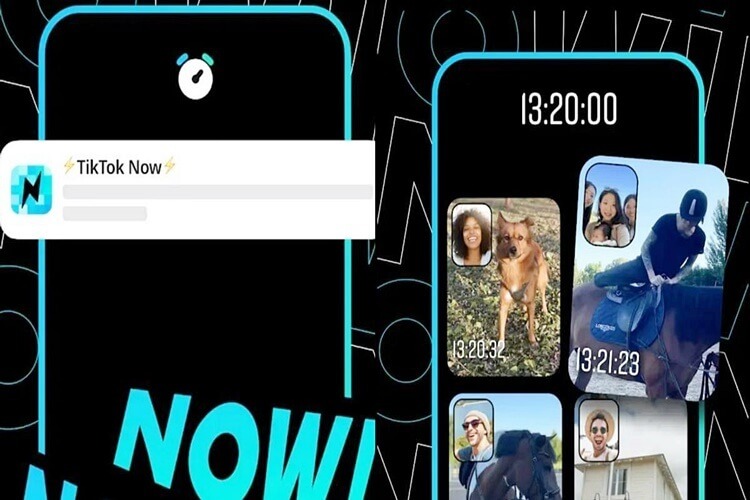 Recently, TikTok has launched a new feature called TikTok Now. This is a tool that helps strengthen the connection between users by inviting them and their friends to capture everyday moments through both the front and rear cameras on the device. Users will receive a daily reminder at the same time. This prompt encourages them to record a 10-second video or snap a photo to share with their friends.
So, how to post on TikTok Now? Let's find out in this article!
Click here to download TikTok Now 2022
How to post on TikTok Now
You can post on TikTok or on TikTok Now. To do this, you first must register an account on at least one of the above applications. Then, follow the steps below:
Step 1: Tap the daily TikTok Now notification. Or, tap the reminder in the Now feed in TikTok. If you use TikTok Now, tap the reminder in the Friends feed.
Step 2: If this is your first time using the camera, you need to grant access to the camera and microphone. You can now use both the front and rear cameras simultaneously to take photos or record videos. If you are 18 or older, you will have 3 minutes to experience this.
Step 3: Review the photo or video. You can choose to delete and take a photo or re-record a video. The timer will remain running during this time.
Step 4: Click the Post button. Your post will then appear in the Now feed of TikTok or the Friends feed of TikTok Now, and your friends will receive a notification. Note that you can still make a post after 3 minutes.
Where to find TikTok Now posts
In TikTok, you can view your TikTok Now posts on the Now feed or the Memories tab. Meanwhile, in TikTok Now, your posts will show up on the Friends feed, the Explore feed, and the Memories tab.
The Now feed and Friends feed are where to see who posts on TikTok Now, including those who follow you and you also follow them back, and other suggested accounts (if 18 years or older) from TikTok Community.
The Explore feed is where all the TikTok creators (age 18 and up) post public TikTok Now posts in your region.
The Memories tab is where current and past TikTok Now posts are displayed. Only you have access to your previous TikTok Now posts.
How to delete a post on TikTok Now
In TikTok, tap the Share button above a TikTok Now post. Then tap Delete. Continue to select Delete to confirm.
In TikTok Now, tap your profile picture at the bottom. Go to the post you want to delete. Then, choose More Options above the TikTok Now post. Finally, click Delete to finish.