Download Subway Surfers APK : Here !
How to get Subway high scores
1. Click the "Save me" button if there is a key.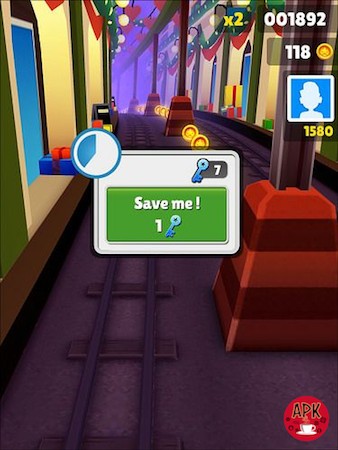 If you get the key, quickly press "Save me" button as soon as the guard caught you in Subway Surfers. This way will help you save the time of being caught, and you can continue playing. The number of keys needed for this depends on each time and will be increased by an exponent of
2. Swipe down to land faster when jumping.
In, Subway Surfer, when you jump back and forth between train carriages at breakneck speed, you may encounter obstacles in front of you; then you need to swipe down to land yourself as fast as possible.
This game tip for Subway Surfers is essential for those who are playing at a fast pace. If you are not quick, you will not be able to avoid the next obstacles, as well as will miss the beat and collide with them.
3. Do not miss Jetpack and magnet.
You should not ignore the rocket to increase the speed because when using the rocket, your flight speed increases significantly, and do not pass any magnet as well, because it will suck all the coins around you.
4. Try to get lots of stars.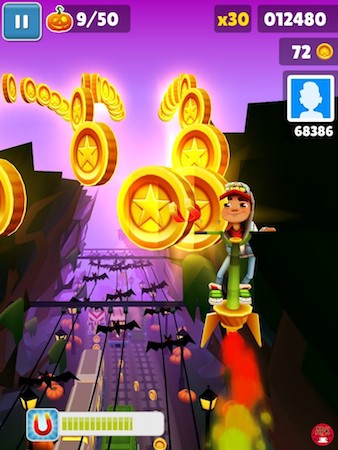 When you collect stars, your score will be multiplied in order x2, x3, x4,…, x30. Just think about how high your score can be if you are at a multiplier x30. And the multiplier x30 is also the highest free multiplier in Subway Surfers.
5. Run on the roof of the train in Subway Surfers.
Another interesting trick for playing Subway Surfers is to run on the roof of the train because there will be fewer obstacles. You can run comfortably without worrying about unexpected obstacles like in the rails.
6. Jump to fly more in Subway Surfers.
While being chased, if you keep running at the average speed, you can be caught. Take the time to jump and fly for a long distance to keep you safe from the guard chasing behind you. You can still get coins in the process, so you don't have to worry about this.
7. Buy green energy bottles and blue stars.
When you have a lot of points, go back to the shop to buy green energy bottles or blue stars to get a multiplier x35. This will help your score increase very quickly so that you can break the records of Subway Surfer high scores.
8. Buy a high-speed skateboard in Subway Surfers.
When you have enough coins to buy a skateboard, go to the shop to one right away to increase the speed. With the combination of high-speed skateboard and multiplier x35, your score in the game will go up rapidly.
Above are some tips and tricks on how to get Subway Surfers high scores when playing this game. Following our tips, and you will surely succeed in conquering the dangerous roads as well as leaving the fat belly guard behind.