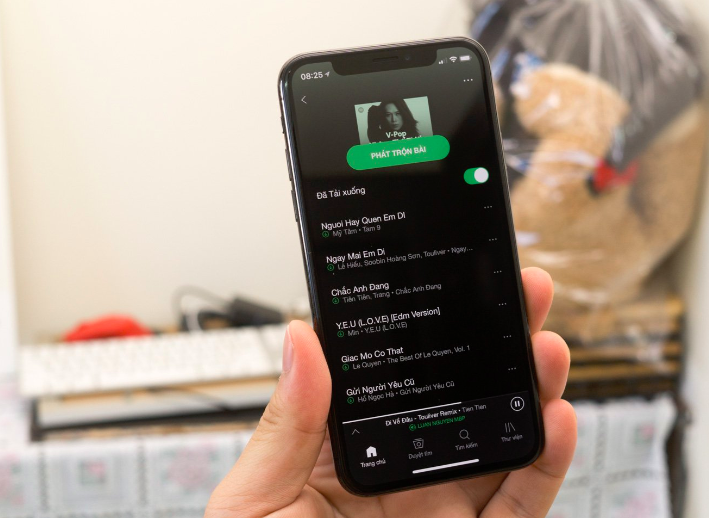 8 TIPS TO USE SPOTIFY FOR NEW USERS
This article is a combination of useful tips when using Spotify such as change username, delete accounts, change passwords, listen to offline music, etc.
>>What is Torrenting? A full guide to understanding file sharing
1. Change Spotify username
The username is automatically generated, so it will usually be a random string of numbers and letters. Theoretically, you cannot change the username in Spotify.
The only way to change the username on Spotify is to connect Spotify to your Facebook account. Then the username on Spotify will be the Facebook name, and your avatar will also be the avatar on Facebook.
(Note: To connect Spotify with Facebook, then when you register for a Spotify account, you must choose to log in with Facebook, instead of Email.)
2. Delete Spotify account
Steps to delete Spotify accounts
Step 1: Go to the home page of Spotify and log in.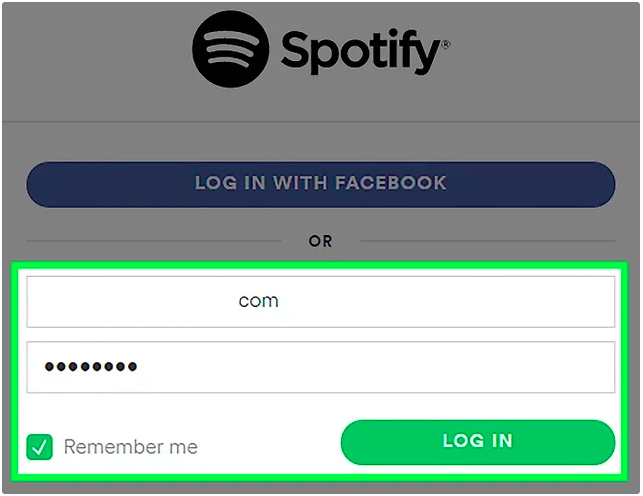 Step 2: Select Account.
Step 3: In the next interface, select I want to close my Spotify account permanently.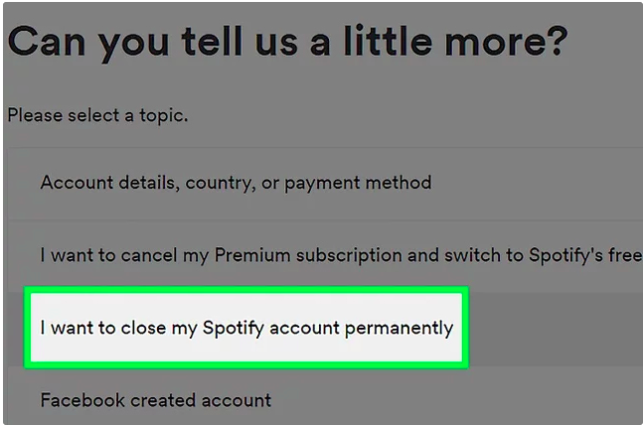 Step 4: Click Close Account.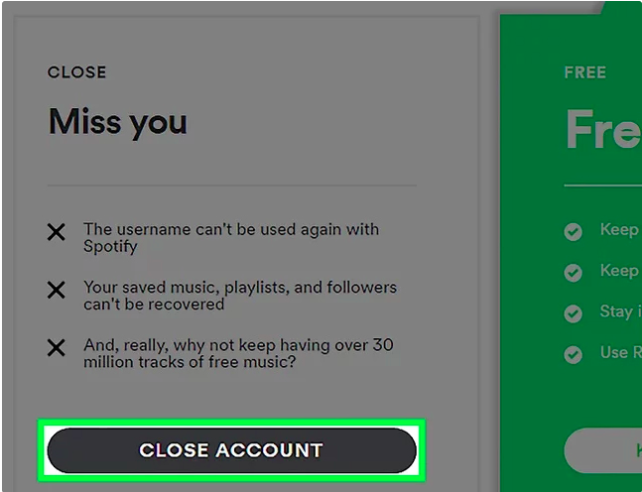 The application will now accept and process your request.
Some notes to know when deciding to delete a Spotify account:
+ After the current account is closed, you will not be able to create another account with the same name.
+ All tracks and songs saved in the account will be lost.
+ Playlists cannot be restored, either.
+ If you use Spotify to stream your music and have your followers, after closing, the entire followers will be lost.
However, if we just want to stop using this music application temporarily, we can choose Cancel Subscription. This way will help you stop using Spotify for a while, but can still restore all your data in the future when you return.
3. Reset Spotify password
To perform a Spotify password reset, you follow the steps below:
> Go to Reset Password.
> Enter your email address and click SEND.
> Check your email inbox for an email titled "Reset your password."
Note: If you don't see the message, please check junk/spam or any other filtered folders (for example, if you use Gmail, you can look in Social or Promotions).
> Click the Reset password link in the Email. A new website will open.
> Enter your new password in both fields and click SEND.
> Return to the application and log in with the email address you used to reset your password and the new password.
4. How to use Spotify offline
There is not always network available, and listening to Spotify by 4G or 3G is so expensive, so instead of that, you can download the songs on Spotify to play offline at any time, even when you are on an airplane.
To download Spotify music offline, you must subscribe to the Spotify Premium package for 59,000 VND / month (about 2.5 US dollars). The first month offers a free trial.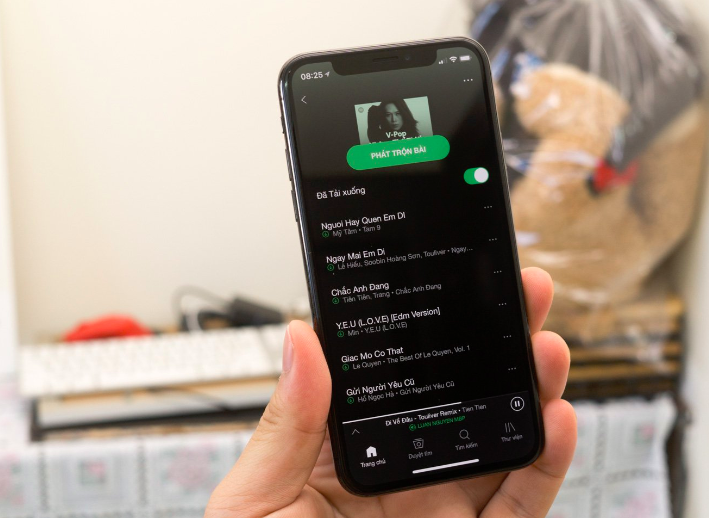 Right in the app appears the Upgrade Account button, click it to upgrade from free account to Premium account. Once you are Premium, you will see a Download button on any album, playlist or track. Swipe the right, and the entire playlist will be saved offline quickly. All saved songs have green arrows.
If you want to review the downloaded playlists, go to "Library." Each playlist saved offline also has a green arrow to let you know that the playlist has been saved to your device.
5. Save favorite Spotify songs
On every Spotify song, there is a plus sign (+). If you click this, it means you have saved the song to your favorite list. You can also do the same to save an album or a playlist as well. You can find all the songs you've saved in Your Library.
6. Spotify Karaoke for desktop app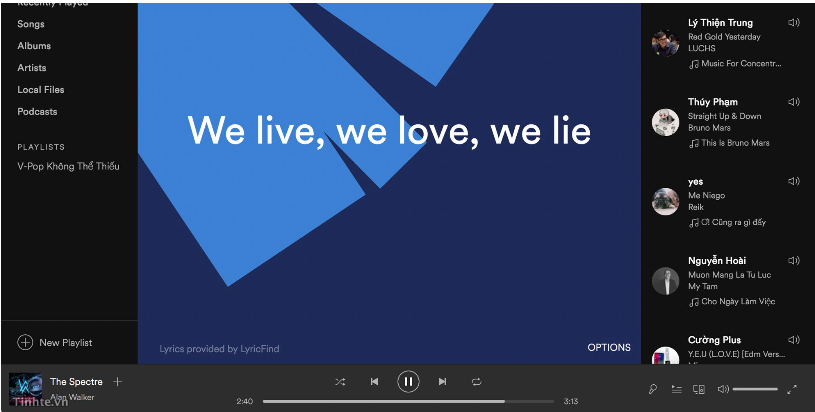 If you download Spotify to your computer, you can practice singing along with the lyrics currently on your computer. To enable this mode, click the microphone icon near Play and Pause. However, the karaoke session only supports for English songs. Vietnamese songs have not been supported yet.
7. Forward Spotify music between 2 devices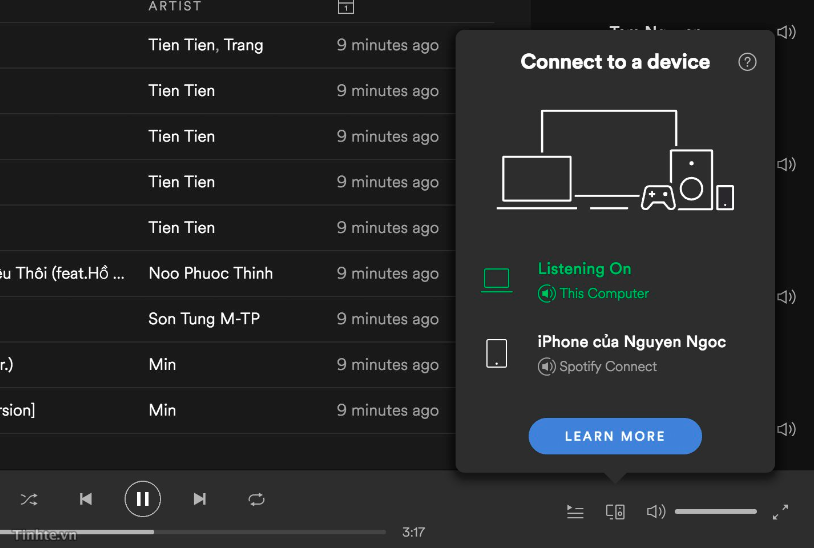 You're working and listening to music by Spotify on Mac or Windows computers, but when it's time to go to bed, you'll have to switch to your phone. Normally, with other apps, you have to find the music you are listening to from the beginning because all the operations are not continuous, which is very inconvenient. As for Spotify, you can open the app on your iPhone or Android; it will ask you if you want to listen to the music that is playing on your computer. Choose Yes, and the song you are listening to will be played on your smartphone right away. Everything happens just with one button. This is something that Apple Music or other music applications cannot do.
8. Send Spotify song link to others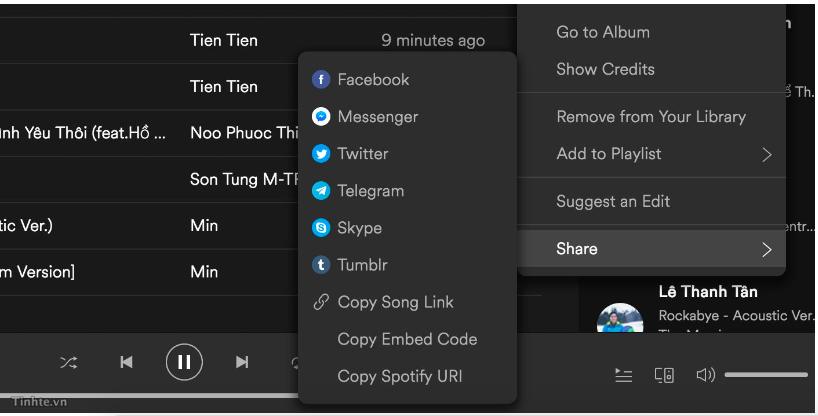 When you want to share a good song on Spotify, you can click on the ellipsis of that song, select Share. It will open the Menu showing many different ways to share the song, such as via Messenger, Facebook, Email, even Copy link for you to paste anywhere you want.
Sharing songs has never been easier. In the evening, if you want to enjoy the same music with your distant lover, just click Share on a song on Spotify, and you get it!