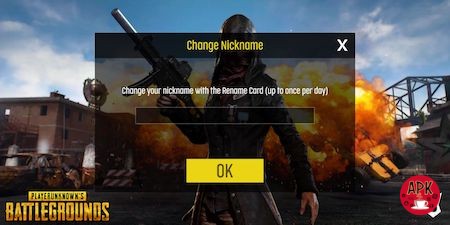 PUBG Mobile's user identification mark is the name of characters, so you can find your friend through the search engine. However, there are some names that are not on the keyboard, so it will be difficult to find them. Therefore, users can rename characters in PUBG Mobile so that their friends and neighbors can find them. PUBG Mobile also allows players to rename characters, but not everyone knows how to do that. You can refer to the guide below of Apkafe to rename characters for free in PUBG Mobile.
Download PUBG Mobile APK Here : PUBG MOBILE
Detailed instructions of how to change PUBG name
– Step 1:
To change the name of the character in PUBG Mobile, first go to Inventory.
– Step 2:
Then, click on the item icon in your inventory, you will see an ID card which is used to rename your character in PUBG Mobile. You can find this card while on a mission in Progress Mission on Level 3. Click on the card to use. There will be a small panel at the bottom that appears, press the Use button to use the card.
After that, write the name you want to change. You can even change the PUBG name with special characters. Therefore, if you find a satisfactory nickname already in use, add some special characters to create the character name. But, that special character should not be too difficult to remember. After naming, click OK to finish and click OK again to agree to change the character name.
If you have money and don't mind spending, you can go to Shop> click Others to buy the card to rename the character with UC. Note that the name you change will not be displayed immediately but you have to wait about one day.
Can you change PUBG name without cards?
At the present, there is no way to change the name in PUBG without using cards. So, the above method is the only solution for you.
Changing the name for the PUBG Mobile character will make it easier for your friends to find yoNAu by the character's name. To find the character name, you click the Friends icon on the left> Add Friends> Search. Next, type the name of the character you want to find. With the name changed, it is easier to search for character names than those with special characters.

Read More: 10 tips in Pubg Mobile