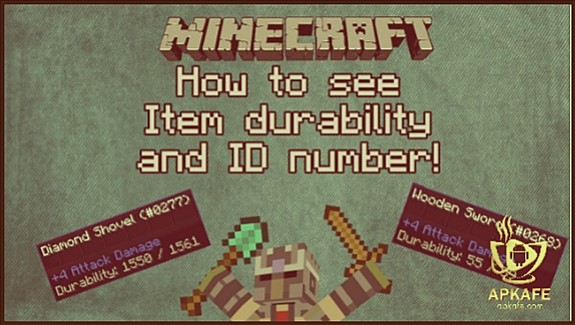 Minecraft players are now able to see the durability of an item in the game. By doing this, they can know when the item is about to be destroyed. So, let's read on the article of how to see item durability in Minecraft.
Minecraft free download for mobiles

Instruction to play Minecraft with your friend at ease
What is item durability in Minecraft?
Item durability is a property that affects all tools, weapons, and armor, as well as certain other usable items. It represents the number of useful actions an item can perform and depletes upon item use.
At first, the bar starts at green. However, as the durability decreases, the color turns to red. When the durability is empty, the item will be destroyed soon.
Durability may be increased by merging two damaged items or repairing them with materials in an anvil, or through the mending enchantment.
How to see durability in Minecraft?
Normally, the remaining durability of any item can be seen by looking at the item's durability bar on the bottom of the item icon in the inventory and action bar. And only the items in use can display a durability bar.
Nevertheless, to show the exact amount of item durability, you need to do as following:
Press F3 + H at the same time if you are using Windows PC.
Press FN + 3 + H at the same time if you are using a laptop or Mac.
After that, when you point out at any your item in the inventory, you can not only see the exact amount that your weapon/tool has left but also the item ID.
Let's take an example of the Diamond Sword below. As the picture shows, the ID number #0276 and the durability is 1557/1561.
Unfortunately, this feature is only available on Java Edition. Additionally, if the user is on Windows 10, they can enable or disable it by pressing F3 + H like on Java.
Conclusion
Now that you know how to see the durability if an item in Minecraft. Hopefully,  it is useful to you.
Learn more tips in Minecraft

Make stone bricks in Minecraft