To root Android, you need to follow these steps:
Step 1: Download the latest KingRoot app to your Android device here: Download KingRoot
Step 2: After the download has completed this application, you click on the download notification as shown below to install KingRoot for Android.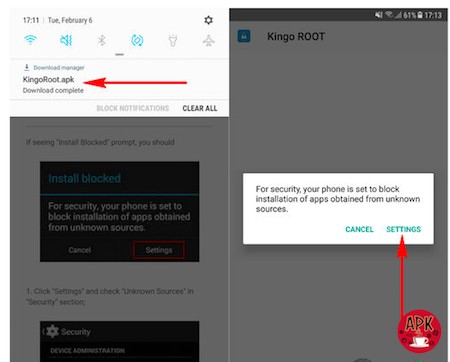 At this time, on your Android screen, there will be a notice to block unknown apps, click the Setting item.
Step 3: Next, you search and activate the Unknown Source feature as shown below to be able to root Android without a computer.
Click Ok to confirm.
Step 4: As soon as you have successfully activated the feature, the system will return to the KingRoot application installation interface.
You click on Install in turn to install this application as well as select Open after the installation is complete.
Step 5: From here, you can root Android with KingRoot without a computer by clicking on Try It from this application interface.
The application system will conduct tests and assess your device. This process will take only a few minutes.
Step 6: When the process is complete, to root Android with KingRoot, you select OPTIMIZE. Then, the application system will start the process of loading data and proceed to root Android without a computer.

When the screen has completed this process and displays the message 100 as shown above, then you click Continue to confirm, as well as restart your phone to complete root Android.
So, we have learned how to root Android without a computer with KingRoot, which is extremely convenient and fast. Besides, other Android devices can also use this application to root Android.
Also you can use Root another way for new guy : Rooting an Android device: A beginner's guide