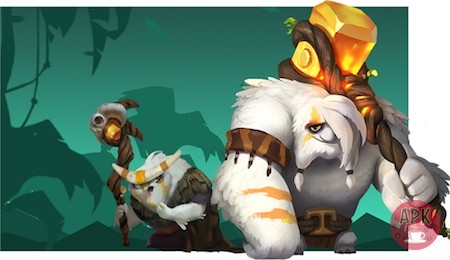 >>Download Auto Chess Mobile Here !
>>Stardew Valley Who To Marry?
>>10 TIPS IN PUBG MOBILE TO HELP YOU EASILY BECOME A HIGH-CLASS PLAYER
Auto Chess Mobile Guide
Basically, Auto Chess Mobile is not much different from the Dota Auto Chess version. But, when compared to League of Legends, Auto Chess is ranked higher for its complexity and tactics. However, once you've mastered how to play, you will be more creative in deploying squads and tactics efficiently.
How to increase power in Auto Chess Mobile
The main purpose of Auto Chess is to survive and reach the highest rank among eight players. To achieve that, gamers must have brilliant tactics and a strong squad.
The fastest way to have a strong squad in Auto Chess is to upgrade your character early to increase your stats and the ability to carry your team.
If gamers want to upgrade a character to the two-star level, they need to add two one-star chess pieces, and to upgrade to the three-star level; players then need three two-star chess pieces.
It seems simple but actually to find a suitable level 2 chess piece if "dignity" does not allow it.
Another way for increasing the character's strength is to combine small items that gamers receive when defeating monsters in Auto Chess Mobile. Then players change them into large items with a powerful ability to carry the team. However, this depends a lot on dignity, and sometimes gamers have to choose the right item to beat the enemy team, not merely increase the stats.
Tribes and Synergies in Auto Chess Mobile
Currently, the clan system in Auto Chess Mobile is rated as the most diverse with 14 tribes and 10 synergies. Each tribe or each synergy will promote its effects when gamers collect enough chess pieces. This is also a vital premise to counter and deploy the strategy when playing Auto Chess.
List of Tribe in Auto Chess Mobile
– Egersis
– Feathered
– Divinity
– Goblin
– Spirits
– Marine
– Dwarf
– Beast
– Human
– Dragon
– Cave Clan
– Glacier
– Demon
– Kira
List of Synergy in Auto Chess Mobile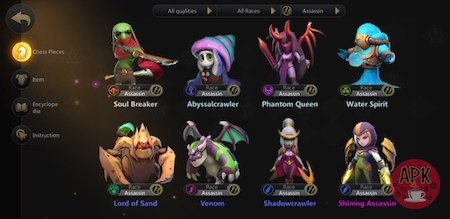 – Warlock
– Hunter
– Mage
– Warrior
– Mech
– Druid
– Knight
– Shaman
– Assassin
– Witcher