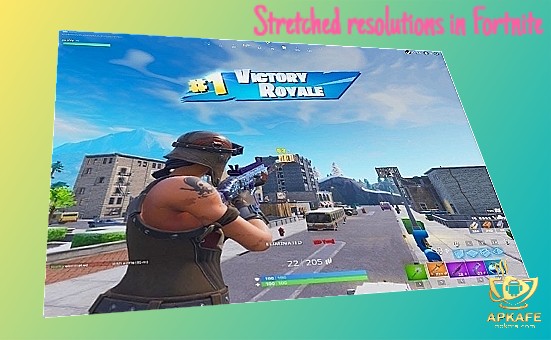 In Fortnite apk, besides the regular resolution, players can choose to play on their own customized or stretched view. The trend of stretched resolutions stems back from CS:GO, where it was common for pro players to play on stretched res. as well as it was also easy to set up. Today, we will show you how to change the resolution to play stretched resolutions in Fortnite.
The reasons for you to play Stretched Res. in Fortnite
Increase the FPS (Frames per Seconds). By this way, you can lower the resolution so that your graphics card will have less work to do.As a result, you will gain increased performance.
Increase the vertical FOV (Field of View). This will make the player models become wider while the hitboxes might actually become smaller. Therefore, you will find it easier to aim and shoot.
Common resolutions in the game
There are many stretched resolutions in Fortnite for you to consider. Here are some:
1024 x 768 Stretched
1280 x 960 Stretched
1280 x 1024 Stretched
1440 x 1080 Stretched
1600 x 1080 Stretched
Steps to change streched resolution in Fortnite
First, make sure that your ingame display settings are set to fullscreen.
Step 1. Open up your desktop, then press the Windows key + R.
Step 2. In the runbox, type in '%localappdata%', then click Ok.
Step 3. Go back a folder (to local) as the following: users > AppData > Local > FortniteGame.
Step 4. Click Saved > Config > WindowsClient. Here, you'll need to find a file called GameUserSettings.
Step 5. Right click at GameUserSettings, then choose Properties. In the new window, unclick the Read Only box.
Step 6. Now, open the GameUserSettings file. After that, find ResolutionSizeX, ResolutionSizeY, LastConfirmedResolutionSizeX, and LastConfirmedResolutionSizeY.
Step 7. Change the numbers behind these entries to the desired resolution and the hit Save.
Step 8. Head over the file, right-click and go to Properties. Then, check the Read only box again. Finally, click Apply.
Step 9. Go back to your desktop. Right-click and choose NVIDIA Control Panel.
Step 10. When you are in the Control Panel, you need to change resolution:
Click on Change Resolution (you can choose one of the predefined resolutions or create your own custom resolution)
Click on Customize…
Check the Enable resolutions not exposed by the display
Click Create Custom Resolution to set the Horizontal pixels and Vertical lines to your desired resolution.
How to play stretched res. in Fortnite on PS4
Step 1. Press the PS button to access your home menu
Step 2. Scroll across to Settings
Step 3. Select Sound and Screen
Step 4. Then, choose Display Area Settings
Step 5. Shrink your screen size down
In case player want a full stretched resolutions in Fornite similar to PC games, access "Video Output Settings" and change the resolution to either 480 or 720p.
How to play stretched res. in Fortnite on Xbox One
Step 1. Press the home button, access Settings, scroll down to Display & Sound, then Video Output.
Step 2. From here, access Advanced, then Video Fidelity and Overscreen, and change Auto Detect" to DVI.
Step 3. Then, you change the Color Depth to 24 bit and the Color Space to PC RGB.
Step 4. Head back to Video Output, and you'll notice there is a 640×480 option. Change to this.
Alternatively, you can also use a TV remote to change resolutions on Xbox One. You'll need to access your TV display settings and find the widescreen mode to stretch the resolution out.
That's how you play stretched resolutions in Fortnite. Good luck!
More tips for playing Fortnite

Tips to play Fortnite Battle Royale mobiles