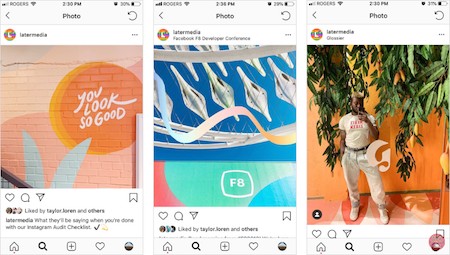 Do you want to post better instagram photos and stories to attract more followers? In photography, composition and borders play an important role, therefore you need to optimize your photos in order not to lose these vital aspects during upload. Instagram is very specific when it comes to image sizing and dimensions. Let's start by running through all the different possible uploads areas for Instagram. So consider this your social media cheat sheet and use it for the best Instagram size for photos and videos.
>>Donwload Instagram Apk for Android

Instagram Profile Picture Size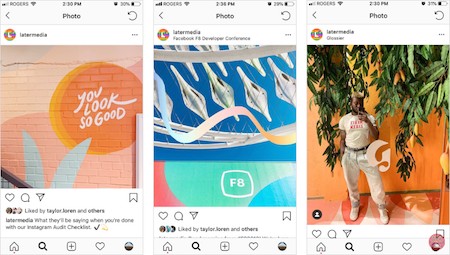 Your profile photo will be seen before anyone even clicks on your profile, so you better be sure it's looking up to scratch. For Instagram profile photos, the picture itself is around 110×110 pixels in size. However, we recommend using a slightly larger image size of 180×180 pixels to make sure it's optimized across many different devices.

Don't forget to write a decent bio to match, it's the next place they're going to look after viewing your profile.

Published Photo Size
There was a time when Instagram only allowed square images to be uploaded. Luckily, the social media app has come a long way since then.

First, for square images the recommended image size is 1080x1080px, but to ensure maximum quality of upload, opt for 2048x2048px.
Second, for landscape images the recommended dimensions are 1080x566px.
Finally, for portrait images the recommended dimensions are 1080x1350px.
Instagram Stories Image Size
Uploading story photos and videos is a great way to get your content out there and publicize yourself (if that's your goal). Therefore, the size of your Instagram story matters. To utilize the whole screen effectively, however, you do need to follow some strict dimensions.

Instagram story dimensions are 1080px by 1920px. This ratio is also known as 9:16 if you are using a third party app to crop your photos. For Instagram story videos the dimensions are 750px x 1334px.The max duration is up to 10 seconds.
The Best Instagram Video Size
The best Instagram video dimensions you should use are 864 pixels (width) by 1080 pixels (height) amount with an aspect ratio of 4:5.
These dimensions and aspect ratio help are optimized to give you more screen real estate for your followers. Wide screen videos might look great on YouTube or Facebook, but on Instagram where most users are on mobile. It makes sense to maximize the vertical dimensions of a phone.

Use InShot
InShot is a third party photo & video editing app available on the Google Play Store and has been a huge player in the game for many years now. The most notable feature we want to talk about though is the aspect ratio. InShot allows you to crop Instagram photo size based on the requirements of many different social media platforms to create optimal image sizes. From Facebook to YouTube to Instagram, all of the dimensions are pre-laid out for you in the app – just pick the one you need and get editing.
Size Matters
Despite what people tell you, Instagram size does certainly matter. Especially if you are looking to build a brand, gain more followers and establish a community on Instagram. Make sure your images are always high quality and work on bringing a high level of aesthetics to not only your images but your entire profile as a whole. Read on for more tips on gaining new followers and retaining the ones you already have.

Consider Your Lighting
Beside Instagram size, lighting is kind of a big deal in the photography world. In fact, people are drawn to lighter, brighter images in general. In a blind smartphone camera of 16 high-end phones, many images from cheaper models with lower quality won over their more expensive counterparts. The verdict was out: even though the image quality and composition of the cheaper smartphone cameras were significantly worse, people voted based on the brightness of the image. Now, this doesn't mean you should go overexposing your images, just take lighting into account when setting up your shots.
Pick A Theme
When we spoke about the overall aesthetic of your Instagram profile, what we really mean is pick a theme. You see, a lot of people neglect to look at their profile as a whole, focusing only on the images at hand when uploading. This can make your profile look choppy, unorganized and unappealing to the eye. Instagram is a visual, photo-based platform, so treat it as one.

Themes can be color based, such as black and white or containing similar tones or filters across all photos contributing to the overall aesthetic of the Instagram grid formation. Themes can also be content-based, so if you are in a specific comedy niche, stick to that. This consistency will keep your followers engaged.

Post Edit
With so many post editing options available these days, the possibilities for modifying images are endless. Features like filters, exposure and sharpness adjustment, and even blemish correctors can elevate your images to a whole new level. We recommend PicsArt, an awesome free app with a metric ton of features to bring the best out of your shots.
Now that you know the optimal dimension for Instagram size of photo, along with a few other tips and tricks, get out there and show your best self to the world. Or just keep posting food photos, it's your life. Don't forget to swing by Apkafe for the best free photo editing app downloads.