If you are looking for an easy way to save someone's Instagram story, then come to Apkafe.
>> Instagram
>> 8 Exciting Photo Applications Besides Instagram
I. How to save the Instagram story from a PC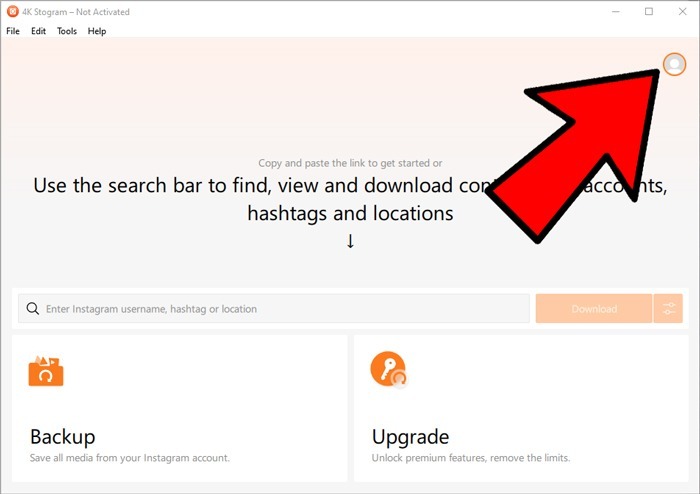 1. Download the entire website
In this example, I used both Chrome and Firefox. Firefox seems to work better for this. Chrome works for images but has a hard time with videos, while Firefox has no problems at all.
1. Open the Instagram story you want to take.
2. Right-click on either side of the rectangle where the story is displayed (not on the video or image but any gaps around it). This will give you a context menu.
3. From the menu, select Save As or Save page as (if you are using Firefox).
4. This will display the Save as screen. From here, you can choose where you want to save the website. You can name it whatever you want; I recommend that you keep the Html extension. Make sure to save as Webpage type. Complete!
5. Open the file browser (or any application you use as a file browser). Navigate to where you have saved the Instagram Stories website. Every time you save a complete web page, it creates an accompanying resource directory, where it stores files like images and scripts.
The directory should be named after the site with the suffix: X_files. If the name of your saved website is "Stories • Instagram," then the name of the resource directory will be "Stories • Instagram_files." Navigate to the resource directory.
6. In the resource directory, you'll find a list of files responsible for making the site display correctly. What we are interested in here are the images. I recommend you sort the data here by their type and view the files as large or extra-large icons, which allows you to see thumbnails of images from the story you are looking for.
7. After finding the image, you can delete the site and everything else in the resource directory.
The biggest drawback of this method is a little time-consuming. However, the benefit is that all you need is a simple web browser – no extensions required.
2. Chrono Download Manager
Chrono Download Manager is a versatile extension for Chromium-based web browsers. It replaces the default download manager with a highly customizable one. It comes with a sniffer that can be used to find and download images, videos, links, and documents from a website.
Chrono sniffer makes downloading the story much easier. You can even download story videos in different variations and sizes. Chrono allows you to batch download user stories, which means you don't have to download each story one by one.
1. From your browser, open the Instagram story you want to download. You can leave the story running until it's almost done, but make sure you click the Instagram Close-up button before it finishes the last story completely, or it will redirect you back to your Instagram homepage, and Chrono sniffer will lose the list of stories.
2. Click the Chrono extension icon on your browser. If it shows the download list, just click the sniffer icon in the upper right corner of the list.
3. Chrono Download Manager provides you with four main sections separated by tabs: videos, images, documents, and other sections. Since the stories on Instagram are most likely the first two parts, we will focus on those parts.
In the video, you can see that the Chrono sniffer is back with a long list of links. If you want to know which one is the story, just check the Google annotations in the list. In general, stories with this comment: Stories • Instagram.
4. My only dissatisfied thing with Chrono Download Manager is that it has no thumbnail for the video, and you really don't know which link it is. You'll have to do some guessing, trial, and error, or download all videos and delete the ones you don't want.
You may find that some of these videos are the same, but they have different qualities, variations, or sizes. That's because Instagram automatically converts quality to match the user's Internet speed. You can select and mark each link you want to download from the list or just select everything.
5. It is easy to distinguish the images you want to download from those you don't. Just make sure you see the Preview.
Again, Instagram story images will have comments: Stories • Instagram next to them. You can organize them using this group. Once you have done that, you can choose the photos you want to download.
When you have finished selecting what you want to download, you can click the "Download All" button.
3. 4K Stogram
4K Stogram is currently one of the best cross-platform apps that are best equipped to deal with everything related to Instagram. It's free, but you can buy a license to get access to its premium features.
You can learn more about it here:
1. Before you download stories with 4k Stogram, you need to log into your Instagram account from there. After you have opened the application, the first thing you should do is click Wap's tool from the top menu bar and select Options.
2. From here, make sure the Download Instagram Story box is ticked. Enter your Instagram login account at the bottom, then click Sign in.
3. Enter the username or Instagram account URL.
4. Click the arrow at the bottom of the text box to expand advanced options.
5. Since you are downloading stories only, you need to select Only stories (for users) from the drop-down menu.
6. As soon as you have done all this, you can click on the Sign-Up button. This will bring and download all user stories and highlights.

II. How to download Instagram story on iPhone
1. Story Reposter
Step 1:
Visit the App Store and download Story Reposter
Link to download here

Step 2: Open the Story Reposter application.
Step 3: In the search field, enter Instagram.
Step 4: From the search page, select Profile.
Step 5: You will see a list of all the stories they've posted in the last 24 hours – photos and videos.
Step 6: Touch the story you want to download. From the next page, touch the Share button and choose Save image or Save video (depending on the type of Story on Instagram).
III. How to save Instagram stories on your Android phone
1. Story Saver
You must first download the 'Story Saver' app from Play Store.
Link to download here

After installation, you need to log in to this application with your Instagram account.
When the login process is complete, you will see a list of followers from your account that has posted stories on Instagram.
Then just click on the user you want, and their Instagram story will appear in a grid format. (both photos and videos).
Now, just clicking on any of their stories, there will be three options – Repost, Save, Share.
Click on the Save option, and the story will be downloaded on your smartphone.

Summary:
After reading the article, you can now save someone's Instagram story to your smartphone and computer.
This article is only intended as a knowledge base for saving and downloading Instagram stories. Apkafe may not be responsible for any misuse of information provided in this article.
Read more Instagram Photo Sizing – Everything You Need To Know